Features - Straight Talk
MARCH 6, 2015
A clear sign for Formula One
BY LUIS VASCONCELOS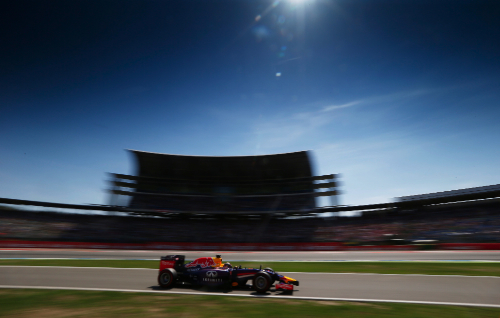 © Active Pictures
Bernie Ecclestone has promised a decision about this year's German Gran Prix will be made this weekend, avoiding the ridiculous situation of having the championship started without anyone knowing how many rounds it would include. As it's well documented, by contract the Nurburgring should hold the Grand Prix this year, but for years the circuit has been going through terrible financial problems, with successive owners or leasers struggling to make ends meet, so the chances of the 2015 race actually taking place there are close to zero. That means it's Hockenheim or nothing for Formula One in Germany, but after losing a truck load of money with last year's Grand Prix, due to very poor attendance, the locals are unwilling to pay a lot of money to hold the race again and getting Ecclestone to give a discount on a deal is as likely as successfully climbing Mount Everest on a bike...
Now let's consider the facts: a German team dominated last year's championship and is likely to do the same this year; German drivers won eleven out of the last 21 Formula One World Championships thanks to Michael Schumacher and Sebastian Vettel; Nico Rosberg, a German, won five Grand Prix last year and finished second in the championship; last year Hockenheim drew a crowd of only 52.000 spectators on Sunday, in spite of a radical promotion and discounted ticket prizes; and RTL is about to drop its Formula One coverage, leaving only pay-per-view channels to broadcast the Grand Prix racing in Germany, meaning viewing figures will take another tumble in 2016.
If previous events were mere warning bells telling Formula One to change its course, losing the German Grand Prix and free-to-air TV coverage in that country is as serious as getting a "terrain" alarm if you're flying a big airplane - it means you're just about to crash...
For years it has been clear that demanding high fees from the promoters has driven Formula One out of traditional circuits and taken Grand Prix racing to places where there's no tradition or interest for Formula One - Turkey, Malaysia, China, India, South Korea, Bahrain, Abu Dhabi, Russia and, soon, Azerbaijan and Qatar. As a consequence, Formula One lost a chunk of its core fan base without making any significant gains in the new markets.
A focus on short-term profit has also driven Formula One into pay-per-view TV deals and while Ecclestone and the teams are counting their money, the number of TV viewers has obviously dropped and the trend will continue in the next two years thanks to the new deals that have been made in this area. Lower viewing figures mean less appeal for potential sponsors, means less money for the teams in sponsorship and, of course, means the number of fans of the sport keeps getting lower.
Add to this scenario the constant changes in regulations, the complete absence of presence in social media, the tight control over everything the drivers do or say - leading the fans to believe we've got no strong characters in Formula One when they actually abound on the grid - and it seems clear Grand Prix racing has been digging its own grave with gusto for the last ten years.
Saving the German Grand Prix is not going to save Formula One, but allowing Hockenheim to hold the race at a reasonable price will show that the powerful people in the business are, at least, aware of the problem and willing to adjust their policies to fit the realities of the market. And that would be a good starting point to make the sport as popular as it once was.