Features - Straight Talk
MARCH 14, 2016
A crucial season begins
BY LUIS VASCONCELOS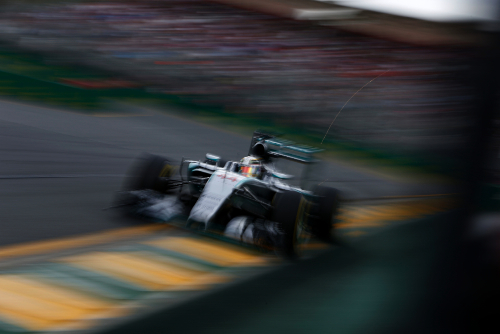 © Active Pictures
It's that time of the year again, when we are flying to Melbourne not really minding the nearly 30 hours spent in planes and airports, the queues for security checks, the full planes and the emigration line once we finally get to Australia. People who work in Formula One for more than a couple of years have to love what they're doing, have to be real die hard fans of Formula One, otherwise the toll of massive intercontinental travelling, always sitting in economy class, staying in hotels that aren't nearly as comfortable as home, coping with massive jet lag as the calendar takes us to different continents in consecutive weekends - thanks Bernie... - and working up to 50 hours in just four days is simply too much if you're doing it just for the money.
As we head into the first race of the season there are so many questions that will only start to get answered next Saturday afternoon: will Mercedes continue to dominate or will Ferrari mount a serious challenge for the titles? Can Rosberg finally beat Hamilton after two seasons of disappointments? Will Williams and Red Bull return to the winners' circle this year? Can McLaren-Honda be a contender after a disastrous 2015? Has Renault been able to make a good step forward with its Power Unit, cutting the gap to Mercedes and Ferrari?
The list could go on forever, as there are so many questions asked just before the cars start running, but while that tends to be the case every year, there's something about 2016 that makes it that bit extra special. As Claire Williams said in Barcelona, during the last day of pre-season testing, with most of the top seats up for grabs at the end of 2016 - only Hamilton, Vettel and Alonso have valid contracts for 2017 and in the Spaniard's case there's a performance clause that allows him to leave at the end of this year - the drivers' market is going to be very exciting to follow.
Rosberg has to really be on par with Hamilton to be in a strong position to hold on to his seat, knowing fully well Max Verstappen and Valtteri Bottas, not to mention rookie Pascal Wehrlein, have their eyes on his seat. But that also puts pressure on the youngsters, as Bottas has to dominate Massa, Verstappen has to firmly get the upper hand over Sainz, especially in qualifying, and Wehrlein has to demolish Haryanto and take Manor to places it has never been before, to show they're strong enough contenders to interest Mercedes.
At Ferrari the man under pressure should be Kimi Raikkonen, but not only does the Iceman seems immune to that concept, Marchionne's words have put Maurizio Arrivabene and James Allison in the spotlight. Will the man that runs the Fiat Chrysler group understand stability is the key to success in Formula One - even Jean Todt took seven years to bring success to Maranello, including five years with Michael Schumacher driving for the Italian teams, four of these with cars designed by Rory Byrne and Ross Brawn - or will Ferrari go back to the old days when Technical Directors and Team Principals were coming and going quicker than you'd pass through a revolving door?
It's also a crucial year for Red Bull, after a first year with no Grand Prix victories since 2008. Will Renault make the rebranded TAG Heuer Power Units run like, well, clockwork? Will Mateschitz accept another year away from the limelight? And down at Toro Rosso, with Verstappen fighting to get a winning car in 2017 and Sainz out to prove he can beat the Dutch, what will happen to the one who fails?
With all that at stake on the tracks and with the drivers' market keeping the paddock abuzz - and you can bet rumours are going to start flying around even before we get to Bahrain, in a couple of weeks - there's a lot more at stake in the background. It's now pretty clear no more manufacturers are having a look at Formula One, given the period of uncertainty the sport is currently living in. With rules being finalised one week before the championship starts, Formula One is not encouraging any manufacturer to spend hundreds of millions of dollars to join Mercedes, Ferrari, Renault and Honda. The sooner the 2017 rules are set in stone and everyone knows what kind of Power Units we'll have around the better and those rules should be valid for a period between five and seven years, as only with stability Volkswagen, Toyota, BMW or Peugeot may be tempted to have a crack at Grand Prix racing.
Beyond that, the whole structure of the sport is under discussion. Now that Renault has signed to stay in Formula One until the end of 2024, what deals can CVC Capital Partners offer the other manufacturers? And to the independent teams, that are essential for the survival of the sport? And what about Bernie Ecclestone's status? Will it remain the same, with a centralised decision-making process remaining in place, or will new blood, with new energy and new ideas come into the party? Whoever leads must address the serious loss of TV viewership the sport is suffering and measure really well if the short-term gain offered by pay TV channels offsets the massive loss of fans all over the world that restricting the viewing offer is causing.
A crucial year I say and one I'm really looking forward to see unfold right in front of my eyes.