Features - Straight Talk
JULY 5, 2017
A penalty that fits the crime
BY LUIS VASCONCELOS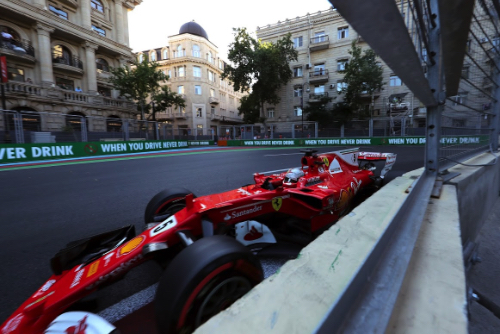 © RV Press
The FIA decided to hand no further sporting penalties to Sebastian Vettel after Monday's hearing, following his sudden burst of road rage in the streets of Baku the previous week. The German will have to spend some time talking to young drivers in the junior formulas - hopefully telling them to avoid losing their cool the way he did in Azerbaijan... - but won't lose any points in this year's championship, won't be suspended for a race or two or take any other penalty that could seriously undermine his chances of winning this year's Formula One World Championship.
Over the last 48 hours I've heard and read all sorts of statements and opinions, from people who thought the ten-second stop and go penalty handed by the Stewards in Baku had been more than enough, to people who just stopped short of demanding Vettel should be taken to the guillotine to have his head chopped off. I guess it's good Formula One still has such passionate fans, but I also hope this mater will now be closed and we can all focus on the brilliant on-track battle we've been enjoying since the start of the championship. God, it feels good to go into a Grand Prix weekend without knowing which team is going to come out on top, after so many years of a rather dull domination by Red Bull and then by Mercedes, knowing all along one of their drivers was quicker than the other and only in exceptional circumstances would lose a race or, in a more extreme case, the championship, as Hamilton experienced last year.
The way I saw what happened in Baku, the Stewards could have gone two ways and opted for the more lenient penalty. It's clear Sebastian Vettel felt he had been brake-tested by Lewis Hamilton on the exit of Turn 15 - but the German was wrong as the telemetry data seen by the Stewards after the race proved, lost his cool, and decided to bang wheels with the Brit's Mercedes a few metres down the road. All that still behind the Safety Car and at a speed of just over 50 km/hour, so the most that could have happened to any of the drivers would have been to chip a nail...
Harmless that move may have been, but it was a deliberate collision - at crawling speed, yes, but a deliberate move nonetheless - so it was clear Vettel was in for a penalty. For a few laps I wondered if he was going to be black flagged or handed a stop and go penalty, so I wasn't too surprised when the Ferrari driver was handed the most lenient of the two penalties, although I still wonder why it took so long for the Stewards to reach a decision, given they had plenty of time to look at all the evidence during the lengthy race stoppage that came a couple of minutes after that incident. But if Vettel had been excluded from the Azerbaijan Grand Prix I would have also accepted it as a good decision, because even at snail pace no driver should deliberately drive into a competitor's car.
With some of the media - mainly the British one, of course - up in arms the days after the incident, it was clear the FIA had to do something and calling Vettel into a meeting was Jean Todt's way of saying he was paying attention to what was happening in Formula One and wanted to be seen as taking action. But once Ross Brawn expressed his view that Vettel had been sufficiently penalised in Baku, I reckoned that was that, because the new main man in Formula One wouldn't have opened his mouth before talking to Todt. After seven years of cold animosity between the Commercial Rights Holder and the president of the FIA, things have changed for the better with the new owners of the sport, as Todt and Brawn get on very well and the Frenchman trusts his former employee's views on technical and sporting maters, so they work in harmony and that's good for the sport.
Having done his show, Todt issued a stern warning to Vettel in the press release in which the decision to avoid any further sporting penalties was announced. He also issued some vague guidance for future conduct, but it was not clear if they were meant for the German alone or all racing drivers, and that was that.
Personally, I think it would have been grossly unfair if Vettel had received a second penalty for the same offence. He already lost a certain victory in Baku - Hamilton's headrest issue put him in a very clear and unassailable lead - so to ban him from this weekend's Austrian Grand Prix would have been excessive. And if the FIA was going to ban a driver for banging wheels at 50 km/hour, what would it do to someone who would cause a massive accident in the future? Ban him for life?
If memory serves me correctly, the last driver to serve a one-race ban was Romain Grosjean, nearly five years ago. The French driver had been in the wars since the start of the 2012 season, causing a number of accidents, but went over the top at the start of the Belgian Grand Prix, when he virtually wiped out the first three rows of the grid - with the exception of Jenson Button - going into the La Source hairpin. And back in 1994, Mika Hakkinen also got a one-race ban by taking four or five cars out at the start of the German Grand Prix, at a time he was a bit out of control as he tried to take his McLaren-Peugeot way beyond its limits.
Vettel didn't take anybody off, didn't premeditate his move - as Senna did in Suzuka/1990 - and doesn't instinctively run into his rivals when he feels a result is slipping away from him, as Michael Schumacher did on many occasions. If you are of a kind disposition, you may say Vettel reacted in the spur of the moment, as he felt cheated by Hamilton, overreacting massively to what had happened; if you are not so charitable, you may think he acted like a spoiled brat that felt his toy was being taken away. But Vettel didn't put anyone at risk, didn't do anything potentially dangerous - what he did was plain silly and he got penalised for it. End of story.
And now let's get back to racing please.