Features - Straight Talk
MAY 12, 2015
Audi closes in on f1 entry
BY LUIS VASCONCELOS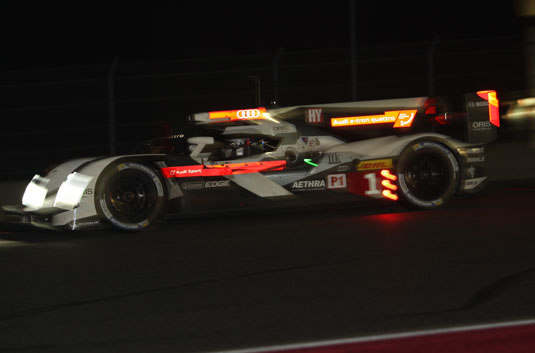 © Terry Griffin
Audi's long awaited arrival in the Formula One World Championship got one step closer recently with Ferdinand Piech's forced decision to resign from the Board of Directors of the Volkswagen Group. The 78-years old Austrian, the grandson of Ferdinand Porsche, had always vetoed the company's entry into Formula One, as he has had a long standing feud with Bernie Ecclestone, but his failed attempt to topple the company's CEO, Martin Winterkom, resulted in his resignation from the board, potentially opening the door for Audi to get into Grand Prix racing.
Audi has been designated as the group's brand for circuit racing but after winning Le Mans 13 times in the last 15 years, there's nothing left for the Germans to prove in Endurance racing, especially now that Porsche seems more than ready to pick up the mantle for the group.
It's not a secret that many people inside Audi have been eager to make the move to Formula One and have conducted many feasibility studies over the last decade, but their efforts were permanently frustrated by Piech's veto.
Now, without that stumbling block in the Board, Audi is seriously considering having a go at Formula One, even if the company's CEO, Rupert Stadler, has refused to set a calendar for that to happen: "we are evaluating a move to Formula One, but we've been doing that for quite a while and no decision has been made."
It's not a secret that Red Bull's Dietrich Mateschitz has been lobbying Audi for years to come to Formula One to be his main team's engine partner, as the Austrian is desperate to part ways with Renault - considering the French manufacturer as the main reason Red Bull is no longer a winning team.
When Stefano Domenicali was hired by the Audi late last year, it was clear the goal was to get the company into Formula One, as the Italian boasts more than 20 years experience working with Ferrari, and led the team to the World Championship back in 2007. With Piech out of the way, Domanicali is expected to have free hand to present a plan to the Board of Directors of the Volkswagen Group - so negotiations with Red Bull are likely to pick up pace in the coming weeks.
While Dietrich Mateschitz's plan is to find a new partner for his Formula One team, there's the strong possibility Audi will only be willing to get into Formula One with its own team. Should that be the case, the Austrian could well be willing to sell both Red Bull - to Audi - and Toro Rosso to Renault, leaving Formula One as a competitor after a very successful run that started back in 2004. But that wouldn't mean Mateschitz would leave Formula One altogether, for Bernie Ecclestone has been trying to convince the Australian billionaire to buy CVC Capital Partners' shares in Delta Topco, the company that owns the commercial rights of Formula One and that could be appealing for the man who revolutionised the world of energy drinks more than 25 years ago.
In any case, given there is no Formula One Power Unit designed and ready to be built in Audi's factory, the earliest the German manufacturer could make it into Formula One would be in 2017 but even that could be a bit of a stretch for Audi, given the complexity of the current Grand Prix engines. On top of that, there are serious discussions between the four manufacturers currently involved in Formula One that could result in a change of the technical regulations for the 2017 season, so Audi is likely to wait until there's a definition of the new rules before investing in the design and development of its first Formula One engine.
There is, nonetheless, another possibility. According to sources close to Red Bull, the new building that is currently under construction next to the Milton Keynes factory is destined to harbour an engine factory, including a good number of dynamometers for static testing, which would explain its deep foundations, making it look like it will be, mainly, and underground structure. With Mario Illien already working on developments for the Renault engine, but under contract with Red Bull, Audi could well take over the project from the Swiss or simply fund his efforts and give him technical assistance in the same way Mercedes works with the Brixworth structure that is led by Andy Cowell - a structure that was, ironically, built by Mario Illien when he was designing and building engines for Mercedes...
While Audi may take a while to make a decision about moving into Formula One and no news are expected until after this year's Le mans 24 Hours - where the German manufacturer is, again, the hot favourite. The smart money is more and more on Audi taking the plunge and challenging Mercedes in its own territory, a move that may force BMW to return to Formula One, to avoid being left behind its two historic rivals.