Features - Straight Talk
MARCH 6, 2017
Finding the right balance
BY LUIS VASCONCELOS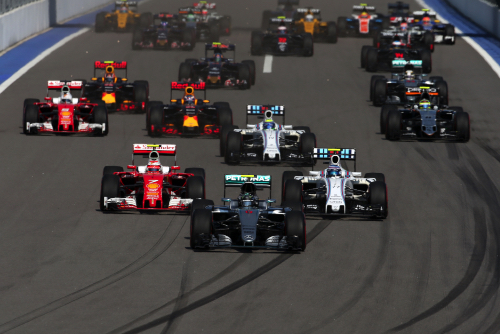 © Active Pictures
News that both the Russian and the Canadian Grand Prix have extended their current deals for very long periods of time - Sochi is now certain to remain in the calendar until 2025, while Montreal will remain a feature until 2029! - are a clear sign Liberty Media didn't come to Formula One to spend time looking around at how the business has been run and then come up with a long-term plan on how to proceed.
Chase Carey made his first public appearance as the top man in Formula One at the end of last September, during the Singapore Grand Prix, but only in January did his company complete the acquisition of the Formula One Group. Less than two months later he's already secured long-term deals in markets that are important to Formula One - Canada because we have an enormous fan base there, Russia because it's a huge market for the sponsors - and it's clear he's not going to stop there.
While Bernie Ecclestone had changed strategy and was offering three-year deals to most promoters - those were the deals Barcelona, Monza and Sepang secured not so long ago - the new owners want to create a very stable base and work from there. Carey already made it clear he wants to keep Silverstone, Monza, Hockenheim and Spa-Francorchamps in the championship, which is great news and if Germany goes back to hosting a race every year, with France coming back to the World Championship in 2018, then the number of races will go over the current number.
The Americans will now have a challenge convincing the Malaysian government it's worth to go back to the negotiations' table to extend their deal beyond 2018 - they had publicly declared they weren't even interested in starting talks, citing the high price they have to pay for very little revenue as the main reason for their option - if they want to keep in the calendar a circuit that tends to provide us with great racing, thanks to a fantastic layout and unpredictable weather.
Even more crucial for Formula One will be working a way to keep Singapore in the calendar beyond the end of this season, as the contract with Marina Bay expired at the end of 2017. If Singapore needed Formula One more than Formula One needed Singapore when the original contract was signed, nearly ten years ago, things have changed and the fantastic night race is now one of the highlights of the season, one most sponsors want to attend and is a great success with TV viewers. A better deal - not necessarily a cheaper one, as Ross Brawn already made it clear that won't be on the table - with more events in town and around the track to attract a different crowd to Singapore, will have to be offered to keep at least one Grand Prix per year in Southeast Asia.
Another market where Formula One will invest more is the United States. It's clear Formula One will get a second Grand Prix in that country as quickly as possible - Miami, New York, Las Vegas and Los Angeles have already been mentioned by the new owners - so that will add another race to the calendar. According to insiders, returns to Portugal (but using the new Portim''    ''  ' ¡®®£o circuit, not the old Estoril track), to Holland, if Zandvoort gets extended again and to South Africa are also on the cards, so it's not impossible we'll get a 25 Grand Prix calendar by 2020 and that will bring a new challenge for the teams and everyone working on a full time basis in Formula One.
Given the current complexity of the cars, it will be humanly impossible for the mechanics to attend every single race, as they'll quickly get burnout. Adding a second crew to rotate with the current race team - with the number of double headers increasing, alternating the crews makes more sense, as working two races in consecutive weekends is physically and mentally exhausting (as we're talking of 60-hours plus weeks for the mechanics!) and that will add a big cost for the teams.
Therefore they'll demand a bigger share of the cake and with TV numbers going down for the last five years, we can see a point in which too many races are not appealing to the fans, deals like the last one Ecclestone secured with Sky for the UK will go away and Formula One will become more dependent on promoters' fees, as well as on sponsorship and merchandising deals.
Finding the right balance between the number of races per season, making sure the tracks are appealing to the fans, and the extra income they will generate, against the increase in costs and the danger of overbearing the fans, will be an important and possibly decisive task for Chase Carey, Ross Brawn and the rest of the group that now leads Formula One.
What happens with Malaysia and Singapore will give us good clues about the direction the sport will be headed post-2020, so we eagerly await news from Southeast Asia to know what the future holds for all of us.