Features - Straight Talk
APRIL 29, 2015
Grosjean for a top team!
BY LUIS VASCONCELOS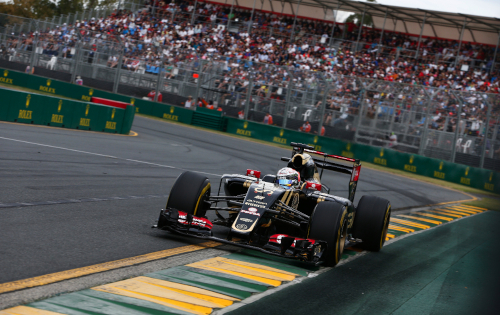 © Active Pictures
Few sports, if any, have the technology to evaluate the quality of the performance of its stars that Formula One has. Inside each team they can analyse every action of their drivers in detail, as telemetry has developed in such a way that it's now impossible for a driver to hide even the tinniest mistake from his engineers. But even the other teams have the means to evaluate each drivers' performance thanks to the help of technology, as they can see the cornering speed of each car at any given moment.
Much as they'd love to hide the qualities and shortcomings of their cars from their rivals, Formula One teams know they cannot do so anymore and that's why hardly anyone is surprised by a car's speed in qualifying or in a race. All runs done on Friday and Saturday morning are carefully analysed by the rival teams, so they know your basic speed and tyre degradation. And the same applies to each driver, for each run, each lap, even each corner, is compared to what his team mate did in identical conditions, so these days Formula One teams have all the instruments they need to understand which drivers are doing a great job and which drivers are failing to perform.
Which makes it even more difficult to understand why the top teams overlook some obviously fast and consistent drivers when it comes to deciding whom they're going to hire next. There are other cases - notably Nico Hulkenberg but we'll deal with him in another column - but the man I want to talk about today is Romain Grosjean.
Grosjean's speed was obvious since he started in motor racing, winning the European F3 Championship and being an instant hit as soon as he moved up to GP2, winning the Asian series and finishing 4th in the main championship. Such was his form in 2009 that he was hired to replace Nelson Piquet Jr. when Renault sacked the Brazilian midway through the season, but that move nearly finished the Swiss-French's career. By then Renault was a team in disarray, as team leader Fernando Alonso was on his way to Ferrari while Flavio Briatore and Pat Symonds got banned from the sport for their role in the 2008 Singapore Grand Prix scandal, so it was not surprising Grosjean didn't do too well in his seven races - but in qualifying he was never far from Alonso's pace and that took some talent, for the Spaniard was at the top of his game.
A successful season in Auto GP and Eric Boullier's faith put Grosjean back on track, as he replaced Ho Pin Tung at DAMS, in GP2, midway through 2010 and dully won the championship the following year. Promoted to Formula One with the only Grand Prix team he knew, by now renamed Lotus, Grosjean showed speed combined with an excessive aggressiveness that was the cause of many crashes, one of them leading to a one-race ban after taking out Alonso, Hamilton and others at the start of the 2012 Belgian Grand Prix.
Fortunately, Lotus persisted and kept the Grosjean for 2013 when, after a shaky start, he finally found his ground. In the second half of the 2013 season Grosjean had the measure of team mate Kimi Raikkonen and on several occasions was the only real opposition for the formidable Vettel-Red Bull combination. But at the end of the season it was the Finn that got the call from Ferrari and Grosjean stayed at Enstone, to endure a frustrating season, as the E22 was a bad chassis and the team didn't have the money to turn the situation around.
This year, with a much better car and Mercedes power, Grosjean was "best of the rest" both in China and Bahrain, having made it into Q3 in each of the first four races of the season. His driving is better than ever, he's quick, consistent and has only been involved in an incident that was not of his own making - with Perez in Malaysia - but when you hear the names of the candidates for a seat at Ferrari or Williams for 2016 Grosjean doesn't seem to feature on any list.
That's probably because on top of being at the forefront of technology, Formula One is more trend-minded than any other sport and these days the trend is to hire the youngest drivers available and overlook anyone that cannot been seen as a new face. I do understand Red Bull wanting to justify the expense of running a second team by promoting Daniil Kvyat when Vettel announced he was Ferrari bound, but I'm also sure Grosjean would be doing a better job than the Russian at the moment, as his experience would be helping the team in this difficult time. Kvyat would have benefited from a second season at Toro Rosso and with his undisputed talent would have been better prepared to move into a top team next year.
Will we ever see Romain Grosjean driving a winning car in Formula One? I seriously doubt it but find it a bit sad, for I would love to see him racing wheel-to-wheel with the likes of Lewis Hamilton and Sebastian Vettel, as he did in 2013, pulling some of the most brilliant moves of the season. Talent, not age, should be the main factor when teams go looking for new drivers - and the man has just turned 29, he's far from old! - for that would get the likes of Grosjean and Hulkenberg to where they should be: driving for a top team.