Features - Straight Talk
OCTOBER 29, 2015
Learning from Sochi and Austin
BY LUIS VASCONCELOS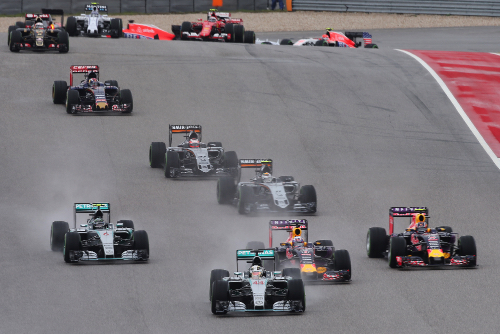 © Active Pictures
What a cracking race we had last Sunday in Austin! Yes, the final result was a very common victory for Lewis Hamilton with Nico Rosberg and Sebastian Vettel completing the podium, but until positions stabilised with around ten laps to go, we had a lot of overtaking among the front runners, great moves into the braking areas and some seriously breathtaking wheel-to-wheel racing. Even when things stabilised at the front, there was plenty of action going on in the battle for sixth place, so the 90,000 spectators that braved the conditions and sat in the grandstands in the Circuit of the Americas surely left feeling their money was well spent.
That, in spite of sitting for hours during Saturday's downpour and being robbed of what would have been a thrilling Q3 session by another period of heavy rain.
Come to think of it, the Russian Grand Prix, held a fortnight ago, wasn't that bad either, don't you agree? Of course Mercedes dominated in Sochi too, but the final podium position was only decided, by a collision between the two Finns, on the last lap. Down the field there was also a lot of overtaking going on, some pretty aggressive moves and a lot of great driving too.
So, what did the Russian and the USA Grand Prix had in common that led to such good racing on the Sundays? A remarkable lack of running in practice and different track conditions come race day. With little knowledge of tyre degradation and the evolution of the track, teams and drivers had to play it by ear and that resulted in different strategies being used during the races. As a consequence, some people were very quick at one stage of the race and made up places, but then were not so quick in different conditions and were passed by some of their rivals.
And this is what Formula One needs, to get exciting races to be the rule and not the exception. I'm not one to bang on about "the good old days" having the firm belief that what was really great about those good all days was that I was young and now I'm not. But was racing really more exciting at the end of the 80's and the start of the 90's, when I started working in Formula One covering every Grand Prix? I don't think it was - mind you, in my first season I had to report on McLaren winning 15 times out of 16 Grand Prix, so I really had to be in love with the sport to write exciting race reports every other weekend - but there was one thing that made it more unpredictable than now: reliability.
Only 12 cars finished the race in Austin, most of them taken out by incidents, but the norm these days in Formula One is that 16 or 17 cars see the chequered flag. Therefore, the fans are not expecting any of the front-runners to drop out because of a mechanical failure and rightly assume that whoever is in front after the last tyre change will win the race. Back in the days Senna and Prost were splitting Grand Prix victories, even the mighty McLaren-Honda suffered the occasional glitch, but now the cars are so reliable that retirements due to technical failures are rare.
As we cannot turn the clocks back and make Formula One cars unreliable, I suppose we can have a good look at what happened in Sochi and Austin to learn what made up for such good racing and how is it possible for Formula One to replicate those conditions and have a lot of overtaking during the races. One clear sign we got from the last two races is that the less running teams get in Free Practice, the bigger the chance of people not getting their set-ups and simulations right, which enables better racing, with drivers and teams reacting to what's happening on track rather than following what their computers told them to do.
Another clear indication we got in Austin is that if the teams don't know - for lack of running - how the tyres will evolve during the race, there's more chances of different strategies being tried - and that also induces better racing.
If less running before the race seems to be a good start to make for better racing, changing conditions are also a proven baseline for excitement. Given that even Bernie Ecclestone cannot control the weather, maybe one solution would be to wash the Grand Prix tracks on Saturday night, to have a "green" track for the race, especially if there are no GP2 or GP3 races before the Formula One race, to lay some rubber down. I admit it's a bit of an artificial way to make things work, but everyone would be in the same conditions and the racing would certainly be more exciting.
One final though comes to mind. For all of those who say Formula One cars are easy to drive these days and the drivers are nothing special, I'd recommend watching the wet practice and qualifying sessions from Austin over and over again, plus watching the full race a couple of times too. In precarious grip conditions we were treated to great demonstrations of skill from all the drivers, with massive power slides - yes, like in the "good old days" - even in treacherous corners like the very long Turn 17. Take it from me: this bunch of Grand Prix drivers is as good as any other I've seen racing and deserves the respect they rarely get.