Features - Straight Talk
APRIL 14, 2015
Less Bickering, More Work
BY LUIS VASCONCELOS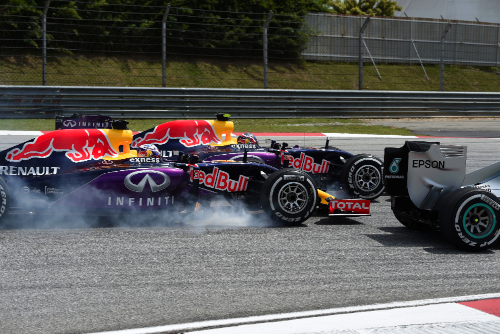 © Active Pictures
Few things are uglier and more embarrassing for those forced to watch and listen than a couple arguing in public, so Red Bull and Renault have been giving the Formula One fans the kind of spectacle we all want to avoid seeing.
In spite of the tremendous success the Red Bull-Renault partnership enjoyed between 2010 and 2013, winning four Drivers' Championships and another four Constructors' Championships, there was always the feeling Renault wasn't a partner valued by Red Bull. In fact, Christian Horner, Adrian Newey and Helmut Marko never missed a chance to point out Red Bull was winning races and championships in spite of having an engine power deficit to Mercedes and Ferrari. That was very likely to be true but the French V8 also had better drivability and lower fuel consumption than its rivals and that was certainly beneficial for the team, something Horner, Newey and Marko hardly ever - if they ever did it - mentioned.
I suppose the tremendous success the partnership made all ill feelings bearable, but now that the French engines are not only uncompetitive but also tremendously fragile, the gloves have definitively come off and both Dietrich Mateschitz and Helmut Marko seem to spend a good part of their time saying Red Bull will leave Formula One unless the team gets hold of a truly competitive engine.
It's also fair to say there is a certain degree of "schadenfreude" in the paddock when analysing the problems Red Bull is facing at the moment. Dominant teams are never popular with the rest of the field but Red Bull became even more unpopular among its rivals because there was a degree of arrogance about the team - not from the mechanics and the engineers, but from the management and ownership - that certainly rubbed a lot of people the wrong way.
It's interesting to notice that Sebastian Vettel's popularity in Germany has grown almost instantly since he swapped Red Bull for Ferrari, as many feel his fellow countryman's perception of the four times World Champion was clouded by their feelings towards Red Bull. As Niki Lauda said after the Malaysian Grand Prix, "everybody complained that when Sebastian won a race it made it very boring for Formula One, but now that he's won for Ferrari nobody is saying it was a boring race and everyone seems to be delighted he won."
There's also no doubt Renault has made a very poor job with the development of its Power Unit for this year. Ricciardo, Verstappen and Kvyat will all be using their fourth Power Unit this weekend in Bahrain, with Carlos Sainz Jr. up for his third one, while most of the top drivers are still expected to compete with the same unit they used in Melbourne, five weeks ago. Reliability is weak but performance is not brilliant either, so Red Bull has reasons to be unhappy about the job its partner has done so far this year.
But Red Bull should also be looking at the RB11's lack of performance from a chassis point of view, for since the start of the season Max Verstappen and Carlos Sainz Jr. have shown that, at least in race pace, their Toro Rosso STR10 is faster than the Red Bull RB11, which is, to put it mildly, a shock. Given the massive difference in budget between the two teams owned by Dietrich Mateschitz it's pretty clear that if Toro Rosso is able to race and beat Red Bull using the same Power Units, then the Milton Keynes-based team must be doing something wrong.
As many observers have pointed out since the start of the season, the RB11 seems very difficult to drive. Last year's overtaking master Daniel Ricciardo has been struggling to complete his moves this year, going off line and losing ground in Malaysia and China while trying to out-brake other drivers, when last year's RB10 allowed him to brake later than anyone else and still make the corners without much trouble. The aerodynamics of the RB11 seem to lack the consistency that was so important for the previous cars' success and that also has a knock-on effect on tyre wear, as seen by Ricciardo's struggle on the soft tyre in China or by his inability to keep up with rookie Felipe Nasr in Australia.
Renault suffered Red Bull's criticism in silence for the whole of last year but the first time the French decided to fire back, Cyril Abiteboul went way too far by branding Adrian Newey a liar and stating he's too old to learn. Maybe he felt Red Bull needed a taste of its own medicine to back off and focus on the job in hand, but to be disrespectful towards one of the most successful ever engineers in the history of Formula One was, at least, unnecessary.
The bottom line is that Red Bull doesn't have a viable alternative to Renault power - Audi is still unwilling to commit to Formula One and building its own engine is a challenge that may prove too hard even for Red Bull's deep coffers - while the French have no other top team willing to use their Power Units. Rather than bicker in public like an old unhappy couple, both parties should be sitting together, admit their own faults and work on solutions for their many problems, as hard work and full cooperation is the only way to help Red Bull-Renault fight back and challenge at the front of the field.