Features - Straight Talk
MARCH 22, 2016
On knee-jerk reations
BY LUIS VASCONCELOS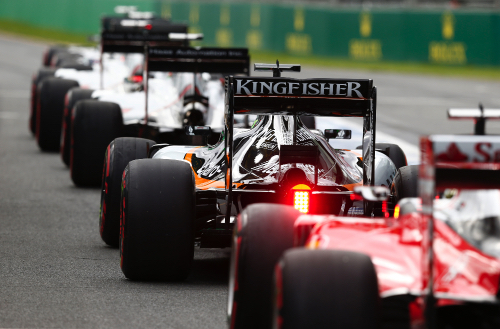 © Active Pictures
The state of disarray that has hit Formula One's governance was painfully obvious last weekend in Melbourne. The last qualifying session had barely finished and already Team Principals of the main teams were declaring the new format, "rubbish", and insisting we should go back to the previous format from the second race of the season.
And, with a speed that would be great seeing applied to more pressing maters, like cost cutting measures, simpler technology and stable rules, as well as finding ways to attract a new generation of fans to the sport, the same eleven people that had voted to change the qualifying format at the start of March, unanimously voted for a return to the past - two weeks later¦
The Formula One teams were testing in Barcelona when news came from Geneva that a new qualifying system had been voted through and from one side of the paddock to the other I didn't hear a single team member or commentator defending it. Some thought it was completely wrong, others admitted it could work in Q1 and Q2 but wouldn't work in Q3, for it was obvious the top five or six drivers would be out on track with their second set of softer tyres immediately after setting their first timed lap in Q3, as they wouldn't be able to afford seeing their rivals go for a second lap while sitting in the pits.
Everyone knew that, apparently the strategists of all the teams explained it to their bosses but the vote went ahead and then the top managers of every team seemed shocked when with four minutes to go until the end of Q3 in Melbourne there was no one left on the track¦
Instead of analysing why that had happened, the Team Principals panicked and voted to a quick return to the 2015 rules, but even if it's clear the new system was never going to be as exciting, as far as it was concerned at deciding who would sit on pole - it actually proved more exciting than the old system in Q1 and Q2.
There were a few reasons why things went the way they did in Melbourne. First of all, this being a new system, everyone played it safe, to the extent Mercedes was first out of the pits in Q1 - when have we seen that before? - to make sure Hamilton and Rosberg got a banker in, even using the super soft tyres to make sure they took no risks. As it turned out, Hamilton qualified 2.1 seconds faster than the first of those who missed the cut, so he could have easily gotten through with soft tyres and, maybe, even with the medium compound. For Bahrain the lessons from Melbourne would have been taken into consideration and the top drivers would still have enough softer compound tyres available for Q3 to do their usual two runs.
The other important element that was completely overlooked by the eleven Team Principals and Bernie Ecclestone - who missed Melbourne but was very active on the phone - was that because of the overnight rain, the Albert Park track was improving massively during qualifying, meaning teams were nervous their drivers could be knocked out in Q1 and Q2 by a flurry of last minute attempts from rivals from smaller teams.
Therefore, every top driver did their laps early in the sessions, using up a lot more tyres than they would in normal circumstances. Hamilton improved 0.746s from Q1 to Q2 and a further 0.768s from Q2 to Q3, always using super soft tyres, so the track improved by nearly 1.5s in just 40 minutes.
Given the gap he had to the 5th fastest, on a normal Saturday Hamilton would have been able to wait for the last five minutes of Q3 before going for his second attempt but that was not the case in Melbourne.
What the qualifying debacle showed was that: a) the Team Principals, Ecclestone and Todt make decisions without considering their full implications or even bothering to listen their own people who have expertise in the field they're debating; b) they're completely insecure in their decisions and are capable of voting for one format one day and go completely the other way two weeks later, without as much as trying to understand what happened in front of their eyes; c) the current rule making system is flawed because each team just votes for favourable measures they think will favour them, without the slightest concern for the best interests of the sport.
On the basis of what happened in Melbourne, the FIA has reasonable justification to disband the Strategic Group and retake control of the rule making process. After all there's no lack of veteran engineers and managers recently retired from the sport that would love to help writing new rules and have a degree of common sense that is nowhere to be found in the current rule makers.
Sure, the manufacturers would scream and shout, and would threaten to take legal action and/or leave the sport altogether - but they would eventually comply with whatever regulations came out of Paris. They would continue racing, as pulling out would cost them a lot of money and make them lose a powerful marketing tool, but focusing on what they do best - compete, rather than play power games in endless meetings.