Features - Straight Talk
OCTOBER 31, 2017
So close, yet so far
BY LUIS VASCONCELOS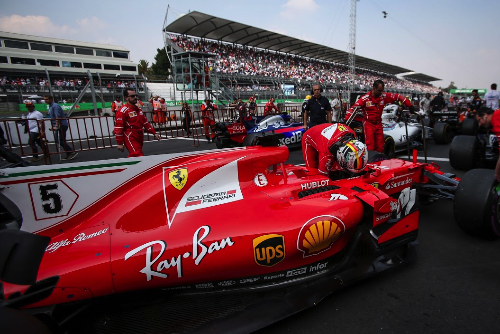 © RV Press
The contrast between Sebastian Vettel and all other members of the Ferrari team at the end of the Mexican Grand Prix was striking. Obviously everyone at the Scuderia was disappointed with the loss of the Drivers' Championship to Lewis Hamilton, but the German driver looked completely distraught. It was like the rest of the team had already come into Mexico City prepared for the worst, with the incidents in the first three corners helping them accept the title was lost, while Vettel, by his own admission, still hoped something would happen right at the end of the race that would help him keep his slim title chances alive.
Truth be told, had Verstappen's engine fallen apart, as did half of the Renault's that raced in Mexico, Raikkonen would have been told to slow down and Vettel could have finished second on Sunday; and with Lewis Hamilton in trouble to make up places, it would have been mathematically possible to go to Brazil with everything to play for - even if the German still needed another two miracles to win his first title with Ferrari.
But it was not in Mexico, or even the week before in Austin, that the championship slipped away from Sebastian Vettel. In a season where Mercedes struggled a lot more than in the previous three years, Ferrari came from a long way back to challenge the Silver Arrows but still needed to be perfect to get ahead of the German team - and it wasn't. Nor was Vettel.
Sure, Lewis Hamilton also had his off days, like in Russia, Monaco and Austria, where he was far from the speed shown by his new team mate Valtteri Bottas - who won two of those races and did a good salvation job in Monaco with his 4th place - but the new four-times World Champion came away from those three races with two fourth places, and one seventh place - scoring 30 valuable points.
Vettel, by contrast, paid a higher price for his less inspired days. He still got to P4 in Baku, after his incredible red mist moment, scoring 12 points, but left Singapore with zero points, after clashing with Max Verstappen right at the start, in a race where starting from pole on a wet track was an enormous advantage. And this Sunday in the Autodromo Hermanos Rodriguez, he lost another wheel-to-wheel battle with the young Dutchman, who's quickly becoming his "bete noir" and instead of cruising for a win that looked within his grasp, fought his way back from P19 to fourth place. You can argue Vettel scored 24 points in his three less-inspired races, but the difference is that while Hamilton never had a chance to do better in Russia, Monaco and Austria, the German lost three potential wins, losing, effectively 51 points in the process.
Add to that Ferrari's post-summer reliability issues - with Vettel forced to start from the back in Malaysia and being an almost instant retirement in Japan - and you can see how all that amounted to the loss of a championship that, until the summer break, looked very much like going the German's way.
To their credit, Mercedes did an amazing recovery job from two potential disastrous situations: first of all, it's been clear for a while that Ferrari read the new Technical Regulations better than their rivals before the season and came out with an aerodynamic package that really exploited the new rules better - when Adrian Newey starts copying your concepts you know you've done a damn good job! Then, of course, the late decision from the FIA to ban the heave spring technology from this year's car dealt a terrible blow to the technical staff at Brackley. Unable to find a way to keep the aerodynamic platform stable in slow corners and over kerbs, Mercedes found huge problems in making the tyres work at extreme temperatures and never had the traction and brute downforce to fight in the slower sections of the tracks.
But they do work hard at Brackley and Brixworth and from the Belgium Grand Prix until now, the W08 has been a far more efficient car than Ferrari's SF15H and it was the pace of technical development that helped the Silver Arrows to come out on top and Lewis Hamilton to clinch his fourth World Championship.
I'm sure that on their return to Maranello, the travelling elements of the Scuderia found a disappointed group already working on next year's car and they should be, because had things gone a bit differently, this could have been Ferrari's year.
But let's not forget this is the first time in the hybrid era the Scuderia has been a real contender for the title, nearly toppling Mercedes, who completely dominated the first three years under the current engine rules. This is also the first time since 2012 a Ferrari driver has been able to fight for the title, so it's clear the Italian team is moving in the right direction.
I admit I thought "going Italian" was a mistake 16 months ago, when Marchionne basically fired James Allison and the other British engineers that the English engineer had taken with him to Ferrari, but the truth is the new technical group led by Mattia Binnoto has been working extremely well. They seem to operate like a tight unit, have come up with clearly the best aerodynamic concept for this year's rules and deserve credit for the work they've done.
Making big changes on the back of a bad month in October would be capitulating to emotions and not a logical move, so let's hope Marchionne keeps his "tifosi hat" in the closet and continues to think with his brain. What the technical team now needs is a clear vote of confidence from the company's president and assurances they'll get whatever they need to do even better for 2018.
Ferrari's situation is frustrating for everyone in the team, I'm sure, but it's not a drama, yet. Making quick changes on the spur of the moment, now that's what would make it an Italian drama.