Features - Straight Talk
JULY 10, 2017
So much talent but nowhere to go!
BY LUIS VASCONCELOS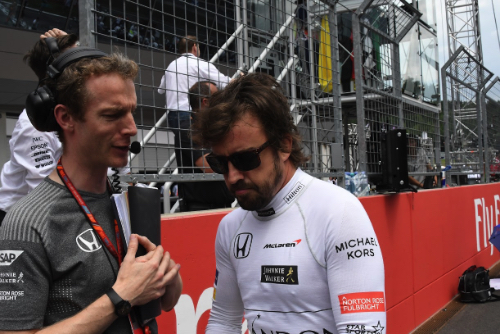 © RV Press
In the space of just two weeks, Fernando Alonso saw the doors at Mercedes and Ferrari firmly shut in his face. With Red Bull never intending to take top drivers from other teams, preferring to breed its own stars at Toro Rosso before promoting them to the main team, this means the Spaniard's chances of getting his hands on a winning car for 2018 are next to zero.
On the Wednesday prior to the start of the Azerbaijan Grand Prix, Alonso's manager, Flavio Briatore, went on a charm offensive by inviting Toto Wolff and Niki Lauda for dinner in Baku. The Italian was very much the brains behind taking Formula One to Azerbeijan, as he convinced the country's president it needed a Grand Prix in Baku to put Azerbaijan in the map, so it was inevitable he would be at the race.
But the goal of inviting the two Austrians for dinner was certainly not to tell them how great Baku is. With Valtteri Bottas on a one-year contract with Mercedes, Alonso and Briatore were hoping there would be a chance to get the Finn's seat for next year to fight it out with Lewis Hamilton in one of the two most competitive cars in the field.
From what has transpired from the dinner, Briatore's attempts didn't go far, as Wolff politely told him Mercedes had no intention of changing its drivers' line-up for next year, as they were very happy with Valtteri Botats' contribution in his first season with the Silver Arrows. Lauda was a bit more blunt, apparently, but Briatore quickly got the message and the conversation then moved to other subjects.
With Red Bull out of the equation, that meant two down one to go for Alonso and, according to Italian sources, through a common acquaintance the Spaniard made an approach to Ferrari. This was always going to be a long shot, for Sebastian Vettel is set to sign a new deal with the Scuderia and would certainly be against the plan of having Alonso as team mate, but the fact remains Raikkonen's position is not very solid, so there's one seat up for grabs in Maranello for next year and Alonso and his management team thought it was worth a shot checking it out.
Fast forward to Sunday morning in Spielberg, when Ferrari president S©rgio Marchionne made one of his rare appearances in the paddock, in the hope of seeing a Scuderia win. Way before the Italian manager left Austria disappointed - his presence in the paddock rarely coincides with victories for his team - he spoke to the Italian media and when asked if there was a chance of Alonso returning to Ferrari, his answer was clear: "Alonso may have shown an interest in returning to our team but didn't get from us the kind of answer he was hoping for. We're simply not interested in having him back!¹
Where does that leave Alonso then? In practical terms he now has two options, if he wants to remain in Formula One beyond the end of the current season: he either extends his deal with McLaren-Honda for another year or two - he may well insist on a one-year deal for Hamilton's deal with Mercedes comes to an end next year and some believe the English driver may retire to pursue a career in show business - or tries to do a deal to go back to Renault, in what would be his third stint with the Enstone-based team.
But Renault doesn't seem to be taking their chances of getting Alonso very seriously, for over the last couple of weeks Cyril Abiteboul has been trying to negotiate a deal with Toto Wolff to get Mercedes prot©g© Esteban Ocon for a three-year loan, but the Austrian doesn't seem interested in such a long deal as he would like to have Ocon available at the end of next year in case Hamilton retires or Bottas fails to deliver in 2018.
And, at the same time, there's a serious push from Renault's technical department to get Robert Kubica in the car as quickly as possible, after the Valencia test turned out to be a real eye opener for the engineers. By Wednesday the Pole will return to the wheel of the 2012-spec Lotus-Renault in the Paul Ricard, where he's expected to do a qualifying and race simulation on the long version of the track - the one that will be used in next year's French Grand Prix - to assess his fitness to return to Grand Prix racing. Should this test be a success, put your money on Kubica getting his first taste of 2017-spec Formula One cars on the post-Grand Prix test that will be held in the Hungaroring in the first two days of August. After that, anything is possible, including getting Kubica to replace Jolyon Palmer until the end of this season, alongside Nico Hulkenberg.
With all this going on at Enstone, it looks increasingly likely Fernando Alonso's only chance of remaining in Formula One next year is to stay with McLaren and hope Honda makes big strides on the development of its Power Unit, putting the team in a position to, at least, be right behind the top three teams and, occasionally, fight for a podium finish already in 2018.
As Fernando Alonso is universally considered one of the best drivers in Formula One, by his peers, managers, engineers and the press, it's clearly not his driving ability, his race craft, his competence in developing a technical package, his motivation and his leadership talent that have made him unwanted in the top teams. His previous decisions, his tumultuous times at McLaren, in 2007, and Ferrari, in 2013 and 2014, as well as his attitude towards Honda over the last two years seem to have made him a bit of a liability for the top teams, as that's the only reasonable explanation for Wolff and Marchionne turning down the chance to have him in one of their cars.
A real shame, of course, for the thought of Alonso with a winning car battling it out with Vettel, Hamilton and the three young chargers in Bottas, Ricciardo and Verstappen, is mouth watering for any Formula One fan. So much talent, but nowhere to go, that's the best summary we can have of Fernando Alonso's current situation.
Luis Vasconcelos