Features - Straight Talk
OCTOBER 13, 2015
The Master is back!
BY LUIS VASCONCELOS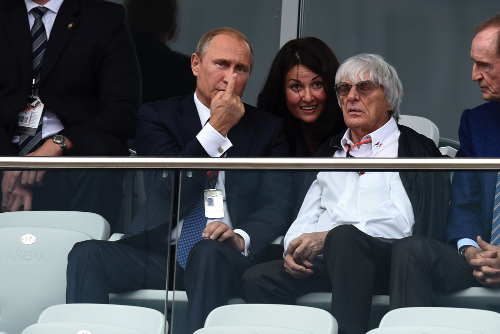 © Acive Pictuers
A couple of weeks away from turning 85, Bernie Ecclestone showed up in Sochi with renewed energy, proving, yet again, he can play in many different boards at the same time without ever losing focus of what he wants to achieve in each one of them. Surprisingly absent from the Singapore Grand Prix, cancelling a large number of meetings he had booked for that weekend, Ecclestone was also a no-show in Suzuka, but that's been the norm for years, as he doesn't particularly like the place and given the Japanese organizers are not big payers, there's no point, in Ecclestone's mind, in going there.
Those three extra weeks home clearly did Bernie Ecclestone a lot of good, for he was a man with a mission in Sochi. On top of paying homage to Vladimir Putin to a level never seen with any other Head of State visiting a Formula One race, Ecclestone was busy trying to solve Red Bull's engine problem, batting away questions about Force India and Sauber's complain to the European Union, trying to convince the teams to accept more radical regulation changes for 2017, signing a new three-years deal with Pirelli and spending more time giving interviews than normal.
Red Bull's situation is giving Ecclestone far too much work for his liking, but the Formula One mastermind understood months ago that there was no way the Austrian company was going to find a suitable Power Unit for next year without his help. That's because Dietrich Mateschitz, Helmut Marko and Christian Horner have rubbed so many Formula One people the wrong way that sending any of them to speak to Dieter Zetsche, Sergio Marchionne or Carlos Ghosn was just dooming any request for engine supply.
According to German sources, Ecclestone actually managed to convince Daimlers' CEO to supply engines to Red Bull next year, but then Toto Wolff produced a large dossier with copies of many newspaper pages where Red Bull people were bashing Renault. The Austrian pointed out to Dr. Zetsche that supplying engines to Red Bull would be a no-win situation; if Red Bull would win races and the championship, Mercedes' works team would look bad and the company would be criticised for spending money on it, when it couldn't even beat a costumer; if Red Bull would lose, its management would openly criticise Mercedes for not giving them parity, raising criticism for unsporting behaviour.
When the doors at Mercedes were shut, it was Ecclestone who turned to Ferrari, speaking to Maurizio Arrivabene first and then with Sergio Marcchione and now that the Italians have made it clear they won't give engine parity to Red Bull next year, Ecclestone holds the cards to convince Renault to forget the recent past and supply engines to Red Bull for another year. After all, he's also negotiating with Renault what slice of the fixed prize money the French will get after buying Lotus, so he clearly has ways to sweeten the deal for Ghosn and the rest of the Renault board.
Speaking of prize money, Ecclestone also used the Russian Grand Prix weekend to send a couple of messages: he openly criticised Force India and Sauber for taking the Concorde Agreement into the European Union, insisting they're wrong, but didn't press on this mater too much, showing confidence in the EU's decision. But he also hinted maybe the prize money should be distributed in a different way, as the current system favours the bigger teams in a massive way. Cynics, and there are many in the paddock, could see this as a way to pressure Ferrari and Mercedes - the two teams that will get more money than any other in 2015 - to be more accommodating to Red Bull's needs. Otherwise they could find Ecclestone not putting up a real fight against the case filed by Force India and Sauber in the European Union, making sure the current Concorde Agreement would have to be torn and making way for a more balanced distribution of the prize money...
One thing is certain: if there's one man capable of solving Red Bull's self-inflicted situation, that man is Bernie Ecclestone. Not only he's on good terms with all the major players, he also holds a large number of aces when it comes to putting pressure on them to get what he wants them to do. He was never afraid of losing a bit of money if he thought that was for the greater good of Formula One and that's what made him a good dictator: he always had the best interests of the sport at heart and would accept small defeats if they were important to make the sport strive.
During an interview with Martin Brundle, Ecclestone admitted, "the shareholders will sell some of their shares - because they have to, not because they want to. We are looking at people that I hope that, in the long-term, will want to invest rather than perhaps getting the money coming out." Well, that would be a welcome change after more than a decade of money just being drained out of the sport by someone who never reinvested one cent in it.