Features - Straight Talk
NOVEMBER 5, 2015
What a great Mexican Fiesta!
BY LUIS VASCONCELOS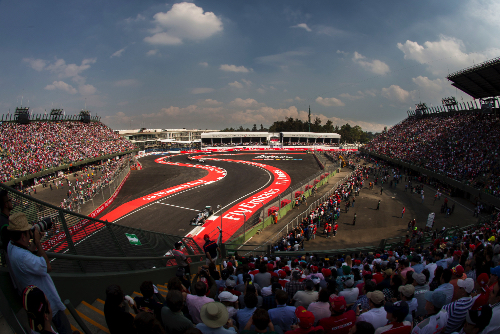 © Active Pictures
How refreshing was the Mexican Grand Prix. With both titles settled well before the end of the season, everyone in the paddock was bracing for three boring weekends, with nothing to play for and all talk being on politics - from Red Bull's self-inflicted engine shortage to the future of Renault and Lotus in Formula One. As most people left Austin hoping for at least a bit of dry weather in Mexico, the general mood in the paddock was not great. Lack of safety and organisation were the main subjects when anyone mentioned Mexico - mostly from people who'd never been there in the first place - but a few days later the mood in the paddock had changed - and for the better!
When the championships are settled and the media is working with horrible deadlines, as it always happens in the American races, everyone in the press room is in a frenzy to get the work done and get out of the circuit as quickly as possible. With deadlines coming fast after the sessions and the race finish, there's little time to breath as soon as the cars stop, so everyone just bangs away at their reports, packs and heads into town for a beer or three.
But that's not what happened in the Autodromo Hermanos Rodriguez last weekend. Most people made it, at least once, into the Stadium behind the paddock to see full grandstands chanting support to Sergio Perez or whatever other driver that wad going by and there were admissions of feeling goosebumps from hacks that have seen it all. Some even made a point of going onto the grid - and not to show their faces on TV as some do on a regular basis - just to feel the excitement from the crowd.
The Mexican Grand Prix was a tremendous success, at least for those who were at the circuit, working in challenging circumstances - yes, not everything went smoothly, as it was reasonable to expect, and the rain didn't help anybody either - because it reminded us all that we came into this sport for passion. And there was no lack of passion from the Mexican fans, 89,000 plus of them showing up on Friday! Now that's a figure most Grand Prix promoters would kill to have as Sunday attendance, but the Mexicans got nearly a full house on Free Practice day and then proceeded to have the grandstands full on Sunday.
When one looks back at this season and analyses the number of spectators in Malaysia, Bahrain, Austria or Russia, it's easy to see the contrast in the numbers and we can brace for another deserted race in Abu Dhabi in a couple of weeks. In Brazil, though, even with an economic crisis that is rocking the entire political system, we all expect to have a full house even if no Brazilian driver is expected to fight for victory in Interlagos.
Mexico showed Formula One what's necessary to be a popular success: have a crowd that understands and loves motorsport and a driver in the field - he doesn't need to be in a winning car, he needs to be there to show his talent because his countrymen will support him from the start to the end of the weekend, even if he finishes in a slightly disappointing 8th place.
China apart, it has been painfully clear that all attempts to raise the profile of Formula One away from its traditional markets have been a failure. After 16 years of racing in Malaysia the race is still watched by just over 40.000 fans and the same can be said of what happens in Bahrain, Russia or Abu Dhabi. And that was very much the case in Turkey, India or South Korea, countries that invested an insane amount of money in state-of-the-art new tracks to have them virtually abandoned after a handful of years. Now that's something the Azerbaijan government should seriously consider before investing too much money on structures that are unlikely to be used for long in Formula One.
If it was exciting for us to be in Mexico and feel the fans' passion for Formula One, I hope that was also the case for those watching the race on TV. Isn't it much more exciting to watch an event where there's a huge crowd, a vibrating atmosphere and people clearly enjoying themselves. Personally I'd rather watch a football match on TV if there are 65.000 spectators cheering and booing all the time rather than just seeing 22 players in the pitch with almost no one in the stands. Enthusiasm is contagious and that was very much clear in Mexico City with even the hardened cynics admitting it was great to see so many people cheering fanatically in the grandstands and I guess this should give Formula One a clear hint of where it needs to head.
There are talks of a second US Grand Prix, in California, and we know there's good following of Formula One in the area, so that could bring us another exciting venue. The same applies to Argentina, where motor sports are popular and we would be guaranteed full house if we'd be back to Buenos Aires, although a quick look at the country's finances indicates that there's a lot of wishful thinking involved in talking about a return to the country''  
A race in South Africa would probably draw a crowd, as would races in Portugal or France. Of course the people that decide where Grand Prix are to be held only care about how much money the promoters are going to pay them, but having seen what happened in Mexico last weekend, maybe it wouldn't be a bad idea to start taking Formula One to places where people actually enjoy having us there.