Features - Straight Talk
NOVEMBER 23, 2015
What are the risks of playing hardball?
BY LUIS VASCONCELOS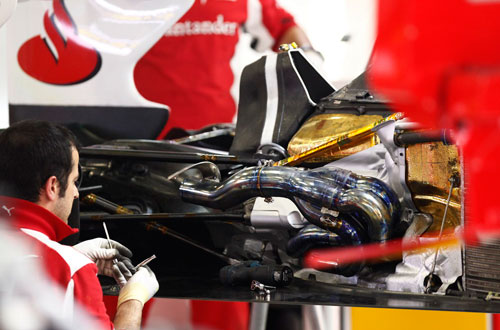 © Active Pictures
It's on! The FIA has decided to challenge the four manufacturers currently involved in Formula One after they declined to bring down the price demanded for their Power Units. Without any consultation with the Formula One Strategic Group, any vote on the Formula One Commission, or submitting a proposal to the World Council for Motor Sports, the FIA has invited independent manufacturers to declare their interest in being the sole suppliers of alternative engines to the Formula One teams from 2017 to 2019.
While the FIA failed to publish what would be the technical specification of the said alternative engines, the latest informations points towards a 2.5 litre twin turbo charged V6 engine, unrestricted in terms of maximum revs and fuel flow, but without any hybrid energy systems linked to it. Those engines are supposed to run against the current 1.6 litre turbo charged V6 engines, that come with hybrid power provided by two different sources - kinetic and heat - but are seriously restricted in engine revs and fuel flow.
Should this proposal go ahead, Formula One would be back to a dual engine formula, something we haven't seen since 1989. As many of you may remember, from 1977 until 1989, with the exception of 1986, turbo charged 1.5 litre engines took part in the same Grand Prix as did normally aspirated engines, first with three litres capacity, later expanded to 3.5 litres, and once the turbos were reliable enough, the normally aspirated engines had no chance to compete with them. The gap was so big that for 1987 and 1988 the FIA created special trophies for drivers and teams using normally aspirated engines, so that they would have something to compete for, as the performance gap between the two technologies was staggering.
Thirty years later the FIA is now seriously considering allowing two completely different engine specifications to go against each other in what is supposed to be the pinnacle of motor sport, as what was initially thought to be just a negotiation tool is now becoming a very distinct possibility. After all, Mario Illien has already confirmed Ilmor will enter a tender to supply the new alternative engines, with Mecachrome and AER expected to join as well. Ilmor will be obviously funded by Red Bull and that should give the company the necessary backing to secure the deal, should the tender really go ahead.
I'm still convinced that all Jean Todt wants is for Ferrari (who vetoed the proposal to lower the Power Units' costs), Mercedes, Renault and Honda to accept a price cap of 12 million Euros to supply their V6 to the costumer teams, but he has to be ready to play hardball all the way to the end and face the already very clear opposition of the manufacturers. Will Ferrari have the right to veto this idea too? Will the manufacturers get together and take the FIA to court for changing the rules when they were clearly guaranteed stability until 2020? Will they pull out one by one, leaving Formula One financially crippled? Or will they get together, like in the summer of 2009 and look at setting up their own championship, using the current Formula One technical regulations?
Although I'm pretty sure we're not going to go through another terrible period of war between the FIA and the teams like the one experienced in 2009, the reality is that if Jean Todt is prepared to play hardball on this mater, he has to be ready for everything the manufacturers and the teams may throw at him. He may have been surprised by hearing some small teams stating, in Interlagos, they are not interested in running the alternative engines and even think they shouldn't be allowed - at least without the proposal to have them going through the required rule making process.
It's worth a reminder that Williams, Force India and, from next year, Manor are contracted to Mercedes until the end of the 2020 season and I believe Ferrari's contracts with Sauber and, from next year, Haas, go way beyond the 2017 season. McLaren, as it's widely known, has a long-term contract with Honda, Mercedes, Ferrari and, from 2016, Renault are running their own works teams, which leaves only two teams in a position to buy those alternative engines: Red Bull and Toro Rosso...
It's certainly a coincidence that these are the two teams that are yet to announce what Power Units they'll be using next year, after continuous threats they would leave Formula One at the end of this season for failing to get competitive engines. That they could suddenly find themselves with much more powerful and cheap engines - but not fuel efficient and completely irrelevant for the car industry - than the manufacturer-backed teams has already ruffled a few feathers and it's expected that rather than making individual statements about these new engines - although Wolff and Lauda were quite vocal against them in Interlagos - Mercedes, Renault and Ferrari will sit together, as soon as the French manufacturer sorts its 2016 program out, to plan a common move. Honda, who's not yet in a position to supply costumer teams, will be invited to join them once they know what will be their next move.
The winter may be a hot one for the FIA and the manufacturers, unless common sense prevails quite quickly - even before the next meeting of the World Council for Motor Sports, preferentially. Public haggling, court cases and controversies are certainly not what Formula One need, at a time when the fans are already deserting the sport. Hopefully, those in charge will realise this in time, and work together for the benefit of all - for once.