Features - Straight Talk
JULY 13, 2015
When small is not beautiful
BY LUIS VASCONCELOS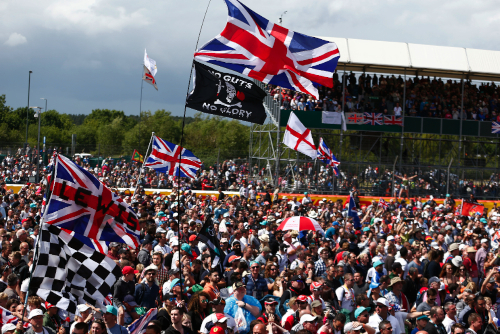 © Active Pictures
Last week's meeting of the FIA World Motor Sport Council in Mexico approved the 2016 Formula One calendar, rubber stamping Bernie Ecclestone's decision to extend the season to 21 Grand Prix - a new record for Formula One. That decision alone should be enough reason for concern for the teams, for the amount of travelling and days away from home for all its Grand Prix staff will be increased, but in addition things will become even worse thanks to the very late start of next season, as the Australian Grand Prix will be held on April 3rd to open the hostilities. And with the championship finishing, in Abu Dhabi on November 27th, we'll all have the mammoth task of working in 21 Grand Prix in the space of just 35 weeks.
It makes it for a very compact calendar but in this case small is certainly not beautiful, as not only there will be two more races in the calendar than this year, but they'll be compacted into 35 weeks instead of the 38 weeks that this year's championship is taking. With seven back-to-back weekends, the first two in different continents(!), teams will have their staff out for nearly 170 days in the space of 36 weeks - everyone will be on their way to Melbourne at least one week before the race, as you need almost two days to get to Australia from Europe - so either teams will start rotating staff during the season or there won't be enough divorce lawyers in the UK, Italy and Switzerland to cope with the amount of cases they're likely to get soon¦
Consider just the first four races of the season: in five weeks the teams will be racing in Australia, China, Bahrain and Russia and it's way cheaper to keep all mechanics and non-executive members of the team out between the second and third rounds of the championship than to bring them home for just five days. People will be leaving Europe on March 25th or 26th and returning on May 3rd. In between, they'll have amassed around 80 hours in planes and airports, flying economy in full planes, so everybody will be pretty tired by the time they'll get home.
Instead of the two weekends with no races we had this year after Bahrain, one week after getting home from Sochi everyone will be on their way down to Barcelona, to start a run of eight races in less than three months, including a transatlantic hop to Montreal and a shot into the unknown, or Azerbaijan if you prefer to call it that way¦
Gone is the summer break too, as there will be just two weekends with no races in August and then it's a strange back-to-back in Belgium and Italy forcing the truckies to extra hours on the road to make it from Francorchamps to Monza - two months after another hard working journey from Spielberg to Silverstone. But at least the truckies will be off for the season after Monza, for the final seven races of the season will be run outside of Europe.
For the rest of the pack, though, there won't be much respite. The only bit of good news is that we'll need 40 minutes only to get from Singapore to Kuala Lumpur and than Japan will be a stand-alone race. That will allow the team's staff a week off in Asia before going home for a week and then repeating the strategy after the double-header in Austin and Mexico, with a week off before heading off to Brazil.
Looking at what the teams will be spending on travelling costs next year it seems clear they'll be spending quite a bit more money in 2016 to have their staff going around the globe in less time than this year. And if they finally decide to start rotating staff in the Grand Prix, then the costs will also go up as they'll have to hire more staff to do the same amount of work.
According to some sources the reason for such a compacted calendar was pressure from the pay TV companies that broadcast Formula One as they want to keep their viewers interested and believe big breaks in the calendar turns people away from Formula One. Personally I believe exactly the opposite: too much exposure, too many races in such a short period of time will work like overkill and will turn more people away from Formula One.
Formula One has to find a balance between keeping people interested in what's going on and having too many races, especially in circuits that are not particularly exciting for racing, that will bore people and turn them away. There's just so much a Formula One fan can watch and leaving just 14 weekends open to do other things with family and friends over an eight month period could be the thing that drives people away from the sport.