Features - 2011 Grand Prix Review
JANUARY 10, 2012
Sauber F1 Team
BY TONY DODGINS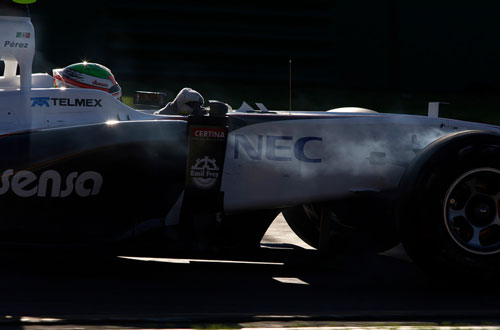 © The Cahier Archive
Pos 7: Sauber F1 Team
Kamui Kobayashi (J); Sergio Perez (MEX)
Points: 44; Best finish: 5th (Monaco)
Sauber started the year in fine style with a double points finish from rookie Sergio Perez and Kamui Kobayashi at the opening race in Melbourne. Unfortunately, a rear wing infringement led to the disqualification of both cars and technical director James Key was left to contemplate how much that might cost them in the final analysis.
As things transpired it was not as bad as it could have been, other issues compromising the potential of the C30 and ensuring that Sauber finished 25 points adrift of sixth-placed Force India in the final championship table.
An amazing facet of that Australian season-opener was Perez finishing seventh with just one tyre stop when most of the opposition had predicted anything from two to four pit stops.
"The initial Pirelli data showed a weak rear tyre compared to what we were used to," Key explains. "We figured the need to design a car that could cope with that, with lots of different ways to change low and high-speed balance.
"The car was balanced and easy on the tyres but that was a disadvantage when you couldn't get tyre temperatures in cold conditions. The drivers were good at conserving the tyres too, particularly Sergio."
As with Ferrari a little further up the grid, it meant that generating sufficient tyre temperature for a qualifying lap could be problematic. And in damp, cold races with a low grip surface and little loading on the tyres, such as Nurburgring, the team was in trouble.
The other major issue, a big one as the season developed, was the lack of a Red Bull-type exhaust blown diffuser.
"Over the winter we couldn't really get it to work in the tunnel," Key explains, "but then we saw how powerful it was. "In Shanghai we introduced the first parts as a test item but on track it didn't correlate with what we'd seen in the tunnel and with CFD. By Barcelona we began to see some effect but installing it where it was actually lost us a lot of downforce."
With associated development of the bodywork, diffuser and brake ducts all inter-linked and the engine mapping side also important, Sauber binned the project when it looked as if FIA clarifications applicable to Valencia and Silverstone should level the playing field. Then, of course, the Silverstone interpretation remained a one-off and the team was significantly disadvantaged.
An upgrade for Suzuka improved low speed performance. It also targeted better efficiency because the team noted that good early straightline speeds had been surpassed.
The conundrum to be solved was the trade-off between the activated DRS phase and normal. The team made two wings so as to have options: a slightly lower downforce one with more drag reduction for race conditions and a higher downforce one with a bigger activation delta for qualifying, choosing between the two race-by-race.
Key was impressed with Perez's debut season.
"He came in at a very complicated time, with DRS, KERS, the Pirellis, no testing and, in Kamui Kobayashi, a good team mate. He was very confident, his race pace was always impressive and he made very few mistakes.
"Sergio likes a more neutral car and Kamui likes a bit more stability and some understeer. He's more a high-speed corner type of driver whereas Sergio was good at Monaco, Hungary and Singapore -- street circuits and the winding stuff.
"In Monaco Sergio had his big accident and suffered mentally for a while."
The team also felt it benefited from De la Rosa's experience when the Spaniard subbed for the recovering Mexican.
"In Canada," Key explains, "we thought we had a bit of a kerb issue but Pedro said no, it's to do with front tyre temperature. Get that up and the issue goes away. That's the first time we'd heard that."
Kobayashi scored points in the first seven races, the Australian disqualification notwithstanding, but then added to his tally only three times across the remainder of the year.
The Japanese driver is a battler but performance unavailable to him from an exhaust blown diffuser perhaps hurt his motivation. The team has often been accused of starting well and not keeping pace but that is often symptomatic of having less money than the top teams.
It was probably true once again, in so far as Sauber was unable to pursue multiple development routes and the one that they neglected unfortunately proved to be so influential.