Drivers
Peter Revson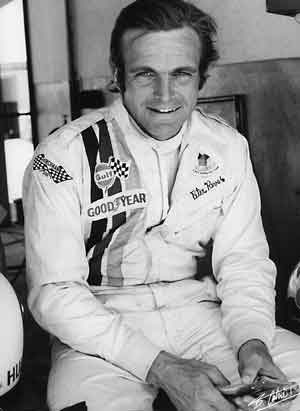 Samuel Morris Revson was a Russian Jew who left his home country to avoid being conscripted into the Czarist army and to find a new life in America. His three sons Joseph, Charles and Martin all became involved in a cosmetics company they established in 1932. Martin was the sales manager and owned 10% of the shares. Revlon was a huge success. Martin married a nightclub singer called Julie Phelps Hall in 1938 and settled in the glamorous Westchester neighbourhood, where their son Peter was born in February 1939.

Peter Revson grew up surrounded by money, went to the best schools and ended up at Cornell University, in upstate New York. His father left the business in 1958 and so young Peter was never involved in the cosmetics industry. After he graduated he went off to Hawaii where in 1961 he started competing in a Morgan. Gradually racing took over and in 1962 he went into partnership with a former Cornell classmate Timmy Mayer to establish the Rev-Em Formula Junior team, which was run by Tim's brother Teddy.

In 1963 they decided to go to Europe to take part in Formula Junior races. Revson did well and by the end of the year had had his first taste of F1 in the Gold Cup at Oulton Park. Timmy Mayer was killed early in 1964 when racing in the Tasman series and Revson Racing, run by Reg Parnell, ran a Lotus-BRM for Revson in 11 events, including six World Championship races. There were no very impressive results and in 1965 Revson raced only occasionally in Europe, in Formula 2 and Formula 3 cars, winning at Monaco. But he enjoyed more success in sports cars in America. For the next five years he concentrated on CanAm.

His younger brother Doug was killed in a Formula 3 accident in Denmark in 1967 but this did not dampen his enthusiasm for the sport and in 1969 he finished fifth at Indianapolis and won an Indy car race at Indianapolis Raceway Park in a Brabham-Repco.

In 1972 he returned to F1 with the Yardley McLaren team, which was by then being run by Teddy Mayer, and in 1973 he showed his class by winning the British and Canadian Grands Prix, the former in most impressive style under difficult conditions. However, despite his success, Peter had a slightly strained relationship with Mayer and determined to prove himself away from McLaren. He signed to drive for the Shadow F1 team in 1974 but was killed testing in preparation for the South African Grand Prix at Kyalami when his car suffered a front suspension failure.