Monaco GP 1967
Monaco GP, 1967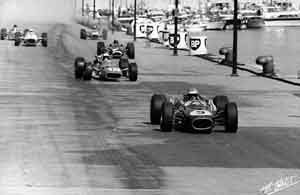 The second round of the 1967 World Championship was five months after the first and much changed since Pedro Rodriguez's unexpected victory for Cooper at Kyalami. The usual pre-season non-championship races had produced some unusual results with Dan Gurney winning the Race of Champions in his Eagle-Weslake and Mike Parkes winning the International Trophy for Ferrari. Wheel manufacturer John Pearce's plans to enter Formula 1 with an all-aluminium Pearce chassis and a Martin V8 engine ended when the team's transporter caught fire and was burned out but there was still a good field for the Monaco GP although the field was bolstered by a pair of Formula 2 Matra, although Jean-Pierre Beltoise failed to qualify.

Jack Brabham took pole position with Ferrari's Lorenzo Bandini alongside him on the front row. The second row featured John Surtees in the Honda and Denny Hulme in the second Brabham while Jim Clark (Lotus-Climax) shared the third row with Stewart's BRM. Then came Gurney and Graham Hill in the second Lotus (this one being powered by a BRM engine). The Cooper-Maseratis were not very competitive with Rob Walker's entry for Jo Siffert faster than the factory cars. Bruce McLaren had decided to use a BRM V8 engine after his adventures in 1966 with Ford and Serenissima and was 10th on the grid.

The race began with Bandini going into the lead. Brabham's Repco engine blew up almost immediately and he spun in the middle of the pack, causing some worrying moments although only Siffert damaged his car and had to pit for repairs. On the second lap Clark went off and dropped to the back of the field while Hulme and Stewart managed to scramble ahead of Bandini. Hulme stayed ahead until the sixth lap but then Stewart went ahead but on lap the BRM suffered a transmission failure and so Hulme was back in the lead. The order settled down with Bandini second and McLaren third, after Surtees disappeared with an engine failure. Clark fought back up to fourth but then retired with a shock absorber failure. This promoted Amon to fourth place.

Bandini then began to close on Hulme while McLaren had to pit with electrical trouble and dropped behind Amon and Hill. On lap 82 Bandini lost control of his car at the chicane and the car overturned and caught fire with Bandini trapped underneath. The fire was put out and Bandini rescued and rushed to hospital.

Hulme continued to the finish unchallenged but Amon suffered a puncture with just eight laps to go and dropped to third behind Hill. Many of the F1 stars then hurried off to the United States to qualify for the Indianapolis 500.

Bandini died of serious burns on the Wednesday after the race.