German GP 1970
German GP, 1970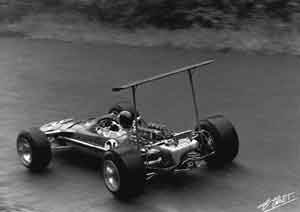 The Grand Prix Drivers' Association refused to race at the Nurburgring because the organizers had failed to do safety work which had been requested and, at the last minute, the German GP was switched to the Hockenheim circuit. This had been upgraded since the death of Jim Clark two years earlier. The entry was similar to that at the British GP although Dan Gurney had left McLaren and returned to the United States and was replaced by Peter Gethin. German racer Hubert Hahne had bought himself a new March but he failed to qualify, along with Brian Redman in the De Tomaso, Andrea de Adamich in the McLaren-Alfa Romeo and Silvio Moser in the Bellasi.

The Ferrari was becoming quicker and quicker and Jacky Ickx took pole position from Jochen Rindt's Lotus. Clay Regazzoni was an impressive third quickest in the second Ferrari, ahead of Jo Siffert's March, Henri Pescarolo's Matra and Chris Amon's March. World Champion Jackie Stewart was back in seventh place in his Tyrrell March.

At the start Ickx went into the lead with Rindt behind him and they were joined by Siffert, Regazzoni and Amon to form the leading slipstreaming group. The five diced for lap after lap, until Siffert dropped away. On the 31st lap Regazzoni's engine gave up and five laps later Amon suffered a similar fate and so it was left as a straight fight between Rindt and Ickx. It was not until two laps from the finish that Rindt was able to make a break but the pair crossed the line separated by only 0.7sec. Hulme was third but he was 80 seconds behind.

It was Rindt's fourth consecutive victory and as the F1 circus headed for his home in Austria, he was 20 points clear in the World Championship.