Italian GP 1970
Italian GP, 1970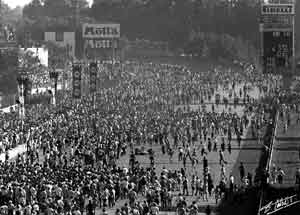 When the F1 teams gathered at Monza the talking point was the performance of the new Tyrrell 001 which had taken the Grand Prix world by complete surprise when it was announced and had shown well in the non-championship Oulton Gold Cup a week after the Austrian GP. This convinced Ken Tyrrell to enter the car for Jackie Stewart at Monza. The team had Stewart's usual March with them as well and Stewart used this in practice on Friday. He did run the new car briefly but this suffered a variety of mechanical problems and Jackie settled for the March.

Ferrari had been dominant in Austria and once again Jacky Ickx was joined by Clay Regazzoni and Ignazio Giunti. On Friday Ickx was fastest. Practice saw Emerson Fittipaldi going off at the Parabolica, crashing over an earth bank in his first run in a Lotus 72. He ended up among the trees, fortunately without hitting any of them. On Saturday afternoon in the same place Jochen Rindt's Lotus darted suddenly left as he applied the brakes and crashed heavily into the barriers. The car was severely damaged and Rindt was taken to hospital but was dead on arrival. The accident stunned the F1 circus. Rindt was the third F1 star to die that year (after Bruce McLaren and Piers Courage). Team Lotus withdrew all its cars.

Qualifying was completed but no-one beat Ickx's time although Pedro Rodriguez did get his BRM to within two-tenths of the Ferrari and Regazzoni snatched third from Stewart's March. Giunti in the third Ferrari and Jackie Oliver in the second BRM shared the third row.

At the start Ickx took the lead but on the fourth lap he was overtaken by both Rodriguez and Stewart and as they battled for the lead they were joined by Regazzoni who managed to get ahead of both of them on the tenth lap. The order was changing with each lap as the leaders slipstreamed one another although the battle lost Rodriguez on lap 13 when his engine blew up. The battle for the lead continued with Stewart, Regazzoni and Oliver being joined by Ickx and it was Oliver who was the first to hold the lead for any length of time. Ickx retired with with clutch failure on lap 26 and Oliver soon fell back into the clutches of Stewart, Regazzoni and Denny Hulme. On lap 37 Oliver's engine failed him.

It was not until the closing laps that Regazzoni was finally able to get away from Stewart to win his first victory by six seconds with Jean-Pierre Beltoise's Matra emerging from the battles to finish third ahead of Hulme, Rolf Stommelen in a Brabham and Francois Cevert's Tyrrell March.

It had been a dramatic battle but there was little celebrating as the teams packed up and headed for home.