British GP 2022
JULY 2, 2022
Saturday Team Quotes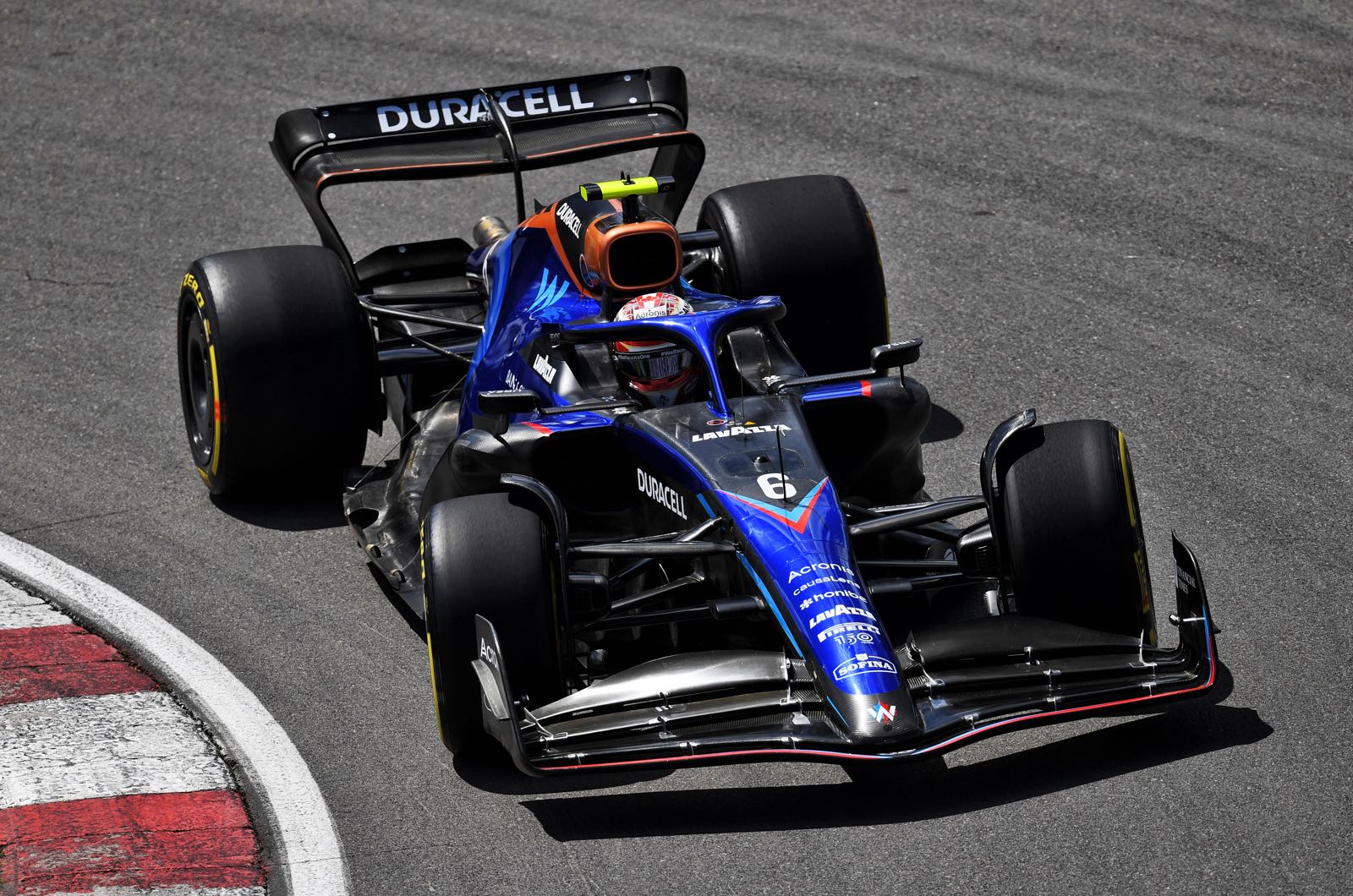 © Williams Racing
Mercedes-AMG Petronas F1 Team
Lewis Hamilton (5th, 1:41.995): "The team have worked incredibly hard to bring updates to the car and we have a bunch of new aero furniture around the car and it has improved. But we still have bouncing in the high-speed corners which is where, particularly the Red Bull, is pulling away from us. In the rain, we were fighting for the front row; all the way until that second to last lap we were up there. We backed off to charge the battery and go into a racier mode for the final lap but that was just when the rain started to fall heavier and it cost us. I was so hopeful because we have this incredible crowd and we were in the fight, I was feeling great. We've got a great race car and fifth isn't the worst place to start, in previous races I'd have been happy with P5 but it's the British Grand Prix, you're hopeful for more. I'll try and pull something special for tomorrow, I really appreciate the support here - the fans were amazing."
George Russell (8th, 1:42.161): "In Q1 I was feeling really well in the car, very confident but in Q2, it felt slightly worse and then in Q3, I struggled for confidence in the car, made a mistake and it was tough to recover from there. It was tricky for everyone out there but I'm slightly disappointed we didn't have a better qualifying session, we didn't expect to fight for pole but more was possible. In FP3 we looked very strong with good pace in the dry and we felt like we made good progress. We know that we have a much faster race car than qualifying so let's see what we can do tomorrow, starting P8 puts us on the back foot so we need to get through those midfield cars as quickly as possible. In the dry and in race pace, we feel we have a car than fight Red Bull and Ferrari so we'll be giving it everything tomorrow."
Toto Wolff, Team Principal: "It felt like we had made a good step with the car in the dry in FP3, and that we could be in the mix for qualifying. Obviously the rain came and we managed the session well, setting competitive laps as the rain ebbed and flowed. But in Q3, the final laps didn't come together - George had a lock-up on his penultimate lap, and Lewis struggled with a split on brake temperatures and losing some tyre temperature. So it's a little disappointing to be only P5 and P8, and to not have extracted the full potential today. The silver lining is that we had strong long runs yesterday - we have improved the car since then - and it's race pace that matters round here. I'm looking forward to watching it all play out in front of these fantastic fans and another packed house."
Andrew Shovlin: "We're disappointed with the final positions as we were closer to the front in the first and second session but ultimately we didn't get the laps together when the conditions were at their best. We'd backed both cars off on the penultimate lap thinking we'd push at the end but the rain picked up a little and we just didn't have the pace. However, we have seen signs of progress with the car over the weekend that are keeping us encouraged. We made a few changes overnight and the drivers were both much happier with the high speed performance in final practice earlier today. Our long run was decent on Friday but it was the high speed corners where we were losing, so hopefully the improvements have carried through from low fuel to high fuel. So, not quite the grid positions that we had hoped for but we're still optimistic that we can bring home some good results tomorrow. The fans have been brilliant all weekend and we'll hopefully be able to give them something to celebrate tomorrow."
Oracle Red Bull Racing
Max Verstappen (2nd, 1:41.055): "It was a good qualifying, I felt comfortable out there. It was obviously very slippery on track, my 360-degree spin in Q3 was a new tyre warming technique [laughs], but overall I think we did a good job, we have a great race car. Q3 is sometimes a bit of a lottery, especially in the wet, so I couldn't improve on my final lap as there was a yellow flag, I think that cost me pole position today. As you can see it's all very tight at the front at the Ferraris are very strong. It will be a close battle tomorrow but hopefully we can finish ahead of them. The car is good in the wet and the dry, so if the car is working well during the race tomorrow then we should have a good chance of winning."
Sergio Perez (4th, 1:41.616): "In these changeable conditions, today was a good result for us. I obviously wanted more and I am not fully satisfied but we can fight from there and I look forward. It wasn't ideal but on the other hand I am not too disappointed because towards the end of Q3 I had Stroll right ahead of me, so my last two laps were not ideal and maybe there was a bit more in it without that hold up. We found the issue in the car that was troubling us on Friday and in the race we will be a lot more competitive. It will be important to stay in the mix and have a strong pace in the race tomorrow, then things can look very different. We have made good progress so I will be confident hopefully we are able to give a hard time to the Ferraris, it is going to be tough but we will fight hard."
Christian Horner, Sporting Director: "It was a good qualifying today from both drivers, in very tricky conditions. We got a bit unlucky with the yellow flags which meant Max lost around 3 or 4 tenths but we're pleased to be on the front row with Checo up there on the second row, in a session like that, it's a good place to be. If tomorrow is a straight dry race, then strategy and tyre deg are going to be crucial, this year, we've seen our cars can follow closer which is going to be critical through Becketts, but if the beautiful British summer continues tomorrow it could all change so quickly, hopefully we can take the fight to Ferrari. Congratulations to Carlos today, he's always been fantastic in the wet even when he was a junior for us, he did a great job and deserved the pole."
Scuderia Ferrari
Carlos Sainz (1st, 1:40.983): "I'm extremely happy today! Securing my first pole at Silverstone in the wet is something special that I will never forget. The whole qualifying was very tricky, and every lap was a new adventure because of the track conditions. Finding grip and traction was a huge challenge and every lap you had to adapt. On the very last attempt I went for it and managed to put a good lap together that gave us pole. The confidence for tomorrow is high and hopefully we can bring our good pace from Friday into the race. It will be a very tight battle with our competitors, but I'm ready for it and I'm sure we can put together a strong race and fight for the win. Let's race."
Charles Leclerc (3rd, 1:41.298): "Unfortunately, I spun on that last lap in Q3 and didn't put it together as I wanted to, so I am disappointed, but I am happy that Carlos finished on pole. I felt confident in the car and we were quite competitive, even in these conditions which is where we struggled quite a lot for the past two years. It's good to see that we've found some consistency in the wet. Strategies will be different between teams tomorrow, so whether it will be one or two stops, I hope we can gain something by making good moves and fight for a 1-2 for our team."
Mattia Binotto, Team Principal: "It's very satisfying to come away with pole position and third place in the difficult conditions we faced in today's qualifying. It was a day where what mattered most was to stay focussed and Carlos certainly succeeded in that. So, he fully deserves this result. Securing his first pole position at such a demanding track and in these extreme conditions is the best possible confirmation of how Carlos' confidence in the car has grown over recent races, especially after Canada. Now we turn our attention to the race, the most important part of the weekend. Charles also had a good qualifying and he can move forward from his start position. However, it's going to be a hard race tomorrow with many variables coming into play. We will now work on preparing to convert this pole into the best possible result tomorrow."
McLaren F1 Team
Lando Norris (6th, 1:42.084): "I'm very happy. P6, is the best we could have done today. I kind of messed up my last lap, but I was still very happy with P6, and it's been a good job by the team. I'm happy with how I did today, I think I got the laps in when I needed to, and P6 is ahead of at least one of the cars we know is quicker than us. It's a good position for tomorrow and hopefully we can stay around there for the race."
Daniel Ricciardo (14th, 1:44.355): "I'm obviously disappointed with the result in the end today. I think in hindsight I needed the lap to be put in early because the track was at its best early-on but then I struggled to get the lap in when it counted. I think the driest lap I found, I went off, so there was a dry line there, I just caught some of the wet and lost the lap. For the most part, it felt just like I didn't get the lap in when the conditions were at their best and that's what cost me more than anything else today. So, that's on me. It's put us quite a bit back on the grid, so we have a lot of work to do tomorrow but we will come out swinging."
James Key: "Our car is better suited to Silverstone than the last couple of circuits we have been to so it's nice to see a stronger performance so far this weekend. Set-up changes overnight were largely fine-tuning, and we made further refinements after a dry P3 session, but also to account for the increasing likelihood of a wet qualifying session this afternoon. A great job by Lando and his team to keep an extremely tricky session together and put us on the third row for tomorrow's race, a good and well-deserved result from a quick and controlled drive in unpredictable conditions. Daniel's run in Q2 was a victim of circumstance and the changing conditions. The track was getting slower as more rain fell throughout the session and effectively fixed the order at an early stage. I have little doubt that Daniel would be much higher up the order if the conditions had remained constant. It's a real shame, but we know he will fight to score points tomorrow. We have good opportunities here, with some close competition around us, so we are looking forward to the race tomorrow and hope that we can maximise our potential and score some good points with both drivers."
BWT Alpine F1 Team
Fernando Alonso (7th, 1:42.116): "There was more to come today and unfortunately we didn't maximise our last laps in Q3. On my first lap in Q3 we were in first, so it was going pretty well. Then, we crossed the line for our last lap with the battery nearly empty, so we couldn't unlock the full potential. I feel like we could have perhaps qualified inside the top five today. Tomorrow, we don't know if it will rain or not, so let's see if we can maximise our position and score points. The car feels good in the wet and dry and all of the data from the factory shows we've made a good step forward with our upgrades this weekend."
Esteban Ocon (15th, 1:45.190): "It's been one of those tricky days for us today. A battery-related loss of power at the beginning of Q2 stopped us from being competitive in the session and we were out in fifteenth, which is not great ahead of tomorrow's race. I'm still positive, though, as we've started from further down this year and scored points, so the goal will be the same tomorrow. We're looking into the issue now and I trust that the team will get on top of it, and we'll be in good shape for the race. We can overtake here at Silverstone, so we'll have to take all available opportunities to have a decent result."
Otmar Szafnauer, Chief Operating Officer: "It's been quite a challenging weekend in Silverstone so far with the mixed weather conditions. Today, we feel slightly disappointed in our qualifying result as, not only do we have two drivers who relish wet weather, but also a race car that has proved in the past to be competitive in the rain like we saw in Canada two weeks ago. Fernando probably had the potential to be a couple of places higher with Q3 a matter of being on a fast lap at the right time, while Esteban was unfortunate with the battery being too cold for optimal performance. That said, we always look forwards and points are awarded on Sundays and we have a long race tomorrow, which will no doubt provide some good opportunities for both cars to progress. We're happy with the upgrades on the car, we've managed to gather some further understanding and data on those with the dry running we've completed at times this weekend. We're looking forward to tomorrow's race where the aim will be to have both cars inside the top ten at the chequered flag and I can see no reason why that aim is not achievable."
Scuderia AlphaTauri
Pierre Gasly (11th, 1:42.702): "It's been extremely hard this weekend in the practice sessions. We came here knowing we'd struggle on this track, we haven't been able to find many solutions, but our Quali was well executed, and we need to be content with P11. Obviously, we can't be fully happy with such a performance, we want more than that, but that's where our car is currently on this kind of tracks. I'll be doing a rain dance tonight and hoping we can have anything other than dry conditions to help us out the most in the race tomorrow."
Yuki Tsunoda (13th, 1:44.311): "We expected it to be difficult to get through to Q2 today, based on the performance we had in free practice, so I'll take today's result. The conditions were tough out there, but the team did a really good job and I'm happy with how we finished, I think it's a big positive for us considering the weekend we'd been having so far. I'm hoping we won't have rain for the race tomorrow, as my car is set-up more for the dry, so hopefully it stays dry, and we'll be able to put it altogether to aim for the points. I'm looking forward to the race, it'll be difficult, but I think we can still have a good opportunity tomorrow."
Jody Egginton, Technical Director: "It's fair to say that this weekend has been a difficult one up until now, with neither car looking strong. However, some good work from the drivers and team in Qualifying allowed us to take advantage of the wet conditions and get the cars a bit further forward than we were looking capable of in the dry up until now here in Silverstone. Obviously, we are not happy with the level of performance shown here, but the guys are continuing to work hard, and we will be looking to maximise any opportunities that come our way in tomorrow's race. We have various aero updates working their way through now and as such we are looking forward to being able to move the package forward with these new parts in the next few events."
Aston Martin Aramco Cognizant F1 Team
Sebastian Vettel (18th, 1:42.666): "A Saturday performance like this makes Sunday really difficult. But all we can do is turn the page and see what we can do tomorrow. We did not have the pace today and we know we can do better. We need to learn our lessons, understand where we are losing out, and improve for next time."
Lance Stroll (20th, 1:43.430): "At the end of the session, we tried a new set of Intermediate tyres, but I had a terrible out-lap getting caught in traffic and it was really difficult to generate enough temperature at that point. With only one push-lap at the end of the session, my tyres were not warm enough to be able to put in a respectable qualifying time. I am disappointed to be starting at the back of the grid, but hopefully the weather will improve and we will have a more successful race."
Mike Krack, Chief Operating Officer: "Today we did not do a good enough job. The rain made things tricky, but that was the same for everyone. To qualify 18th and 20th for our home Grand Prix is a big disappointment, especially as the team had worked so hard to ready our aero upgrades in the short time available. Tomorrow it will be difficult to score points, obviously, but we will do our very best."
<
Williams Racing
Nicholas Latifi (10th, 2:03.095): "A very special day in tricky conditions. To get through to Q2 was a great achievement and a nice confidence boost, and then Q3 was more than we could've hoped for. Straight out of the pits things felt good and I was getting into a rhythm. The team did a great job in Q1 and Q2 of putting me in the right place on the track when I needed to. We saw how important that was for Q2 getting that lap in at the right time before the track got worse with the weather. Coming off in Q3 was frustrating but overall a great team effort and a satisfying day. We have to be realistic going in tomorrow as we're out of position with faster cars being behind us. We need to be very strategic in how we approach the race. It'll be a race of attrition with how we manage the tyres. Anything is possible so we'll focus on our own race and maximise any opportunities that may come our way."
Alexander Albon (16th, 1:42.078): "The conditions were actually okay today despite the rain, with the car feeling good but there was less grip on the 2nd set of tyres. It's been a bit different to drive with the new updates but in Free Practice 3 I was feeling quite comfortable with the car, even in the rain in Q1, it felt ok. At the end of Q1 we opted to do a cool down lap but we lost too much tyre temperature. The track was starting to dry, and everyone was starting to get faster, but I just couldn't find enough grip. It was a tight call but in hindsight, I don't think the cool down lap was the best choice, but we'll see what we can do with tomorrow. We do have a good car, so we need to go back and analyse it."
Dave Robson, Senior Race Engineer: "As expected, the weather played its part today and with the rain intensity varying, it was a difficult session to manage; aligning the tyre condition to the track state was tricky. However, Nicholas drove well throughout qualifying and was able to get in some good laps at crucial times. We had nothing to lose in Q3 and so took the opportunity to complete a reconnaissance lap on used tyres before pitting for the new set and getting position on a clear part of the track. Unfortunately, some car damage meant that Nicky couldn't set a competitive lap time. Nonetheless, he had an excellent session and starts the race tomorrow in a good position. Alex was unfortunate to just miss out on Q2 by a tiny margin, which is very frustrating as he would also have had a good opportunity to get into Q3 today. His car was working well but he couldn't get as much from the second set of tyres as he did from the first. We'll look over the data to see if we could've done something better for him, but at least we got some useful information on how the new package works with the Intermediate tyres and how we need to balance the car in those tricky conditions."
Alfa Romeo F1 Team ORLEN
Guanyu Zhou (9th, 1:42.719): "Qualifying was a challenge, but I would say I didn't do too bad for a rookie! It was my first time driving in F1 in Silverstone in the wet, the conditions were very different from yesterday but today has been good, I felt like I was progressing and improving my time lap after lap. It was particularly tricky out there between Q2 and Q3, when it was getting damp and there was a lot of standing water, but I managed to keep the car on track and reckon I was able to maximize everything I had today, so I can consider myself satisfied of the job done. It feels amazing to score two back-to-back Q3 appearances, I feel like I'm growing as a Formula 1 driver and I am really happy about that. I am looking forward to tomorrow, the track conditions should be dry, and I think we have the opportunity to score some points, which is always our main target. We have good potential, the grid will be super close, but I reckon we are looking good and both cars will be able to challenge for points tomorrow."
Valtteri Bottas (12th, 1:44.232): "It's been a challenging day for me: conditions were tricky, changing all the time and it felt like every lap the track was a bit different. Q1 was good, but, once I got into Q2, with more water on track, I struggled to get enough temperature in the tyres. That was a bit of a downward spiral – I was sliding around and the car kept snapping, which made me lose even more temperature. Still, we are in P12 and the points are not too far away: we expect a dry race tomorrow, and I am confident we can make some gains. Our car is quite strong in the races, so we can put up a bit of a fight."
Frédéric Vasseur, Team Principal: "The conditions of the track were very challenging, as the intermittent rain made it really tricky to assess just where the limit was. Zhou delivered a very mature performance, despite this being just his second wet qualifying in F1, and made it to Q3 for the second time running. His P9 is a career best and he is in a great position to bring home points tomorrow. Valtteri had a slightly more complicated day: he looked good in Q1, but getting the tyres into temperature in Q2 proved difficult and he had to settle for P12. Still, we know how strong our car is in the race and we expect to make up some ground tomorrow, especially if it's dry. The objective is to put both cars in the points once again."
Haas F1 Team
Kevin Magnussen (17th, 1:42.159): "Mick was looking good in FP3, I didn't have a good one, but I could see what the car could do so I was confident. Then it rained, and that made me even more confident but for some reason we just didn't have the pace today in the wet. It's interesting, we've been quick in the wet a couple of times this year, but it's been on very different tracks to this one. There's something to learn from that so we'll try again tomorrow and see if we can fight our way back into the top-10."
Mick Schumacher (19th, 1:42.708): "Unfortunately we had an issue with the car, it seemed like something with the steering wasn't right which is the last thing you want, especially in these changing conditions. We'll analyze what happened, but I think that was a big reason why we didn't make the step-up into Q2. I'm down for any conditions tomorrow, whether it's wet or dry – it's fun in any conditions – so I'm looking forward to it."
Guenther Steiner, Team Principal: "It wasn't a smooth day today. In FP3, Mick did a very good job but Kevin couldn't find the balance in the car. In qualifying in the rain, we just had too much understeer and we wore the front-left tire out. We just couldn't get the car to turn so we were out in Q1 and on Mick's car, his steering wheel was off about 10 degrees which obviously is not ideal when you're out in these conditions trying to qualify. Now we're regrouping to get the best out of tomorrow."