Eifel GP 2020
OCTOBER 9, 2020
Friday Report - Foggy Winner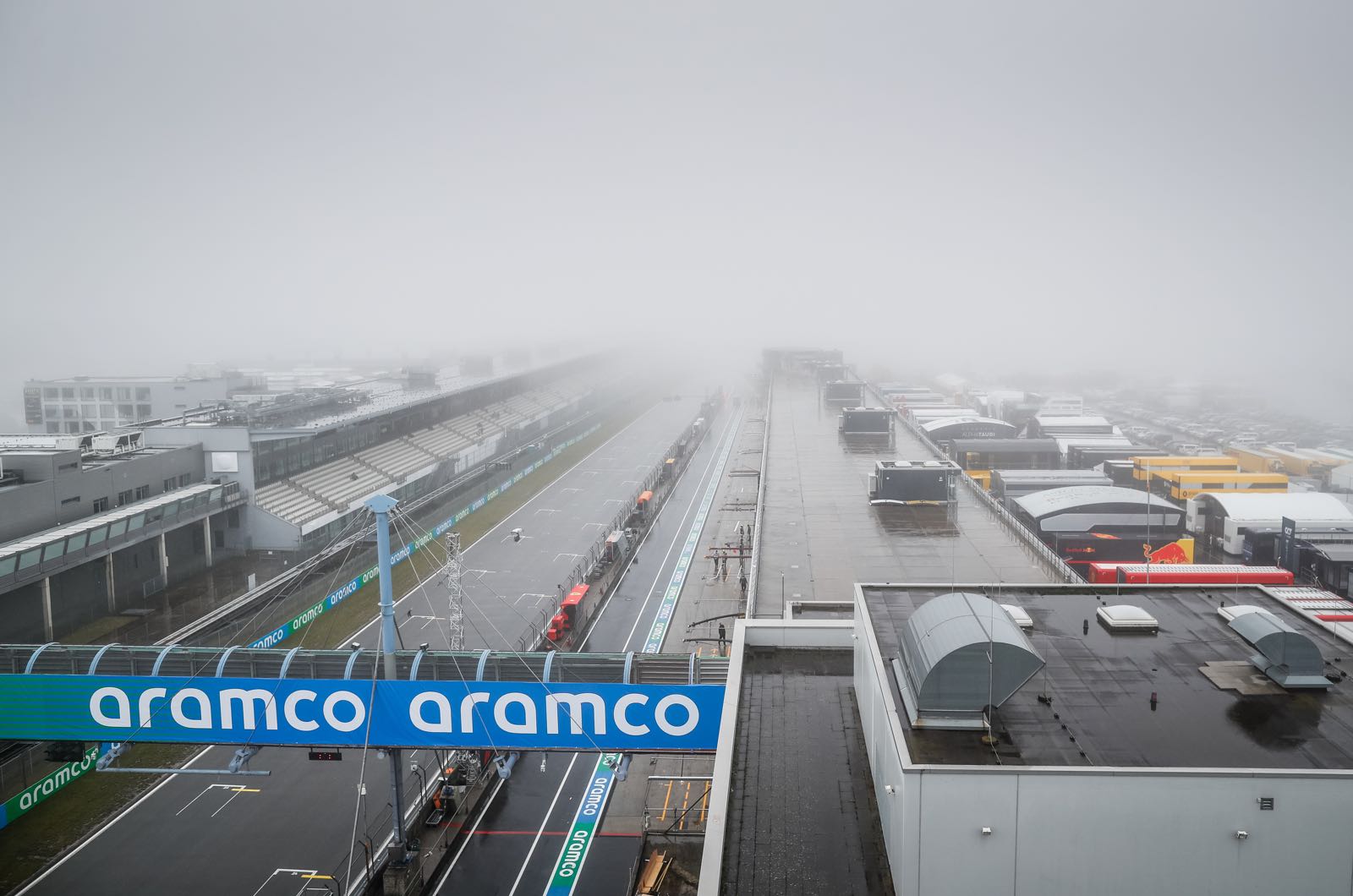 © Alfa Romeo
By Dan Knutson
The fog and mist were the winners in Friday's practice sessions for the Eifel Grand Prix as poor visibility kept the medical evacuation helicopter grounded. Both FP1 and FP2 therefore were eventually canceled with no on-track action.
The line-up for the weekend was: Mercedes – Lewis Hamilton and Valtteri Bottas; Ferrari – Sebastian Vettel and Charles Leclerc; Red Bull Honda – Max Verstappen and Alexander Albon; McLaren Renault – Carlos Sainz and Lando Norris; Renault – Daniel Ricciardo and Esteban Ocon; AlphaTauri Honda – Daniil Kvyat and Pierre Gasly; Racing Point Mercedes – Sergio Perez and Lance Stroll; Alfa Romeo Ferrari – Kimi Raikkonen and Antonio Giovinazzi; Haas Ferrari – Grosjean and Kevin Magnussen; Williams Mercedes – George Russell and Nicolas Latifi.
Free Practice 1 was canceled because rain, mist and fog meant that the medical helicopter could not land at the Koblenz hospital's helipad.
That was bad news for Mick Schumacher, son of the seven-time world champion Michael Schumacher, who was supposed to take over Giovinazzi's Alfa Romeo, and Callum Ilott who was going to replace Grosjean in the Haas in FP1.
The ambient temperature at what should have been the start of the 90-minute FP2 session was 50 degrees Fahrenheit (10 degrees Centigrade) and the track temperature was 55 degrees Fahrenheit (13 degrees Centigrade).
But, while the rain had eased off, it was still too foggy for the med-vac helicopter to land at the hospital. So no drivers were going out on to the 3.198-mile (5.148 km) 18-turn Nurburgring.
Officials delayed the start of the FP2 session by 30 minutes and then would reassess the weather situation. And after those 30 minutes had expired, the session was delayed by another 30 minutes.
Then, with 30 minutes remaining, the officials declared: "No change to the weather situation. Pit exit will not open for this session."
And so Friday's non-practice came to an end with the fog winning the day.