Japanese GP 2022
OCTOBER 7, 2022
Friday Team Quotes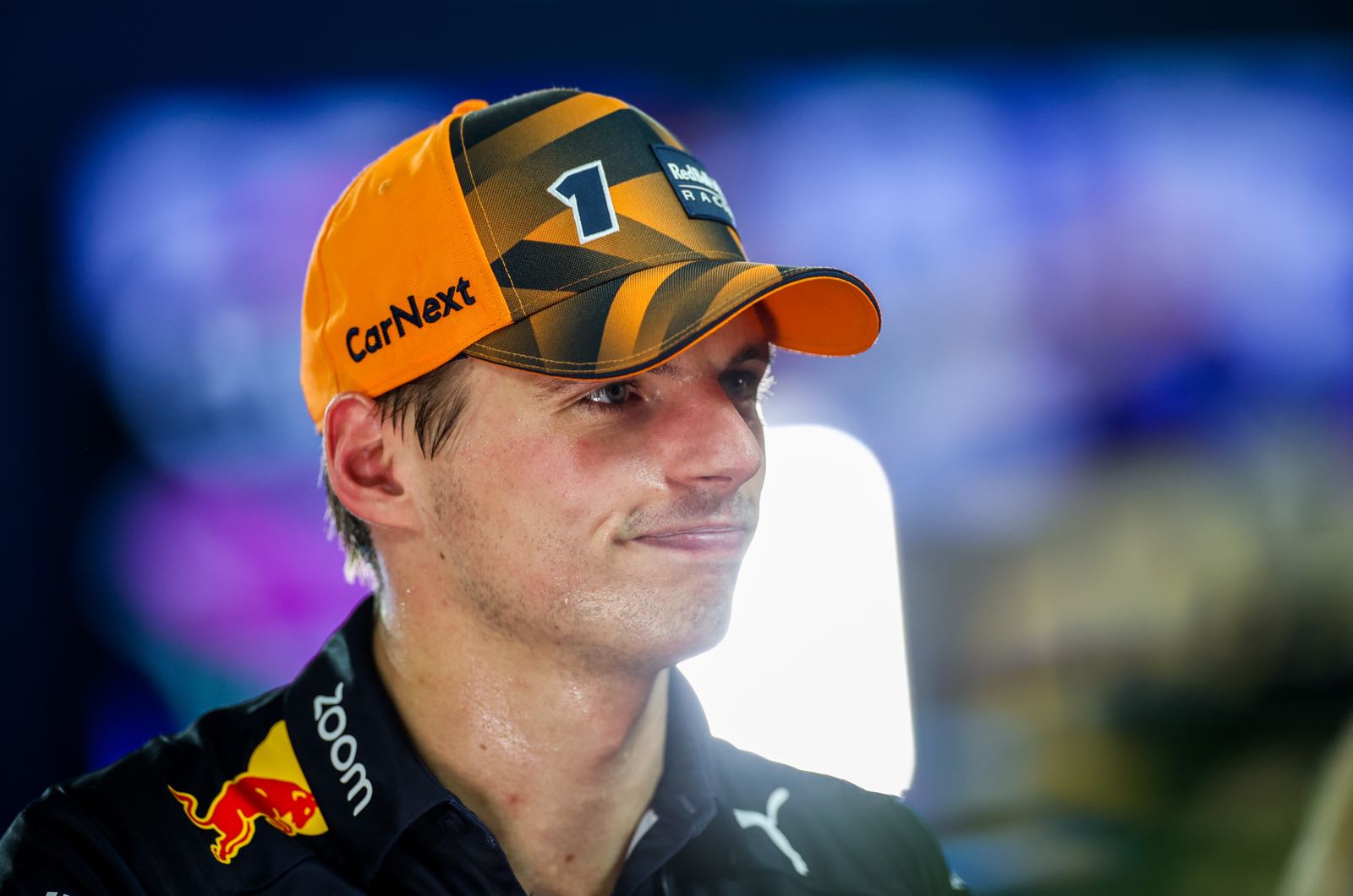 © Red Bull
Mercedes-AMG Petronas F1 Team
George Russell (1st, 1:41.935): "It is always nice to end the day top of the time sheets, and it was a decent improvement from FP1 when we were pretty much at the bottom. The wet conditions today were probably not that representative for the rest of the weekend, but it was a good learning opportunity for the future; it's important to understand things like the tyre crossover from wet to intermediate, and even if that doesn't pay dividends this weekend, it will in the future. It's amazing to be back here in Suzuka - the circuit is so iconic, one of the best in the world, and the first sector is just a joy to drive because it is so fast and flowing. I've no idea what to expect tomorrow in the dry - we will be battling for the top six positions, and hopefully we have a shot at something better than that. Let's wait and see."
Lewis Hamilton (2nd, 1:42.170): "It's been a very chilled day! It's been grey and wet, with a little bit of running, but we expect different conditions for the rest of the weekend. There's always something useful to learn on set-up, tyre wear and temperatures, as well as moving around the car balance between the sessions - plus we get data on our competitors, too. And it was positive in second practice that we could switch the tyres on today. This track is just beautiful to drive and it's great to see the fans here again - and it will be even more fun in the dry. When you do your first lap of the weekend, it's always special to think of all the legends that have been here; then you come up to the last chicane or turn one, thinking of Senna and Prost, and you realise what a privilege it is to drive at a place that has had so much history. Looking to tomorrow, I don't really know what to expect. I guess Ferrari and Red Bull will be rapid, and I hope that we are fast too - like I do each week!"
Andrew Shovlin: "It's great to finally be back at Suzuka and good to see so many fans enjoying the session undeterred by the rain. Our morning wasn't great as we missed the best window for running but it did highlight that we were struggling for rear grip and tyre temperature. We'd made some setup changes over the break and the car was in a better place for the afternoon. The time sheets are not a fair reflection of pace as our times were set on new tyres but, like for like, we seemed to be in a reasonable position compared to Red Bull and Ferrari. We are expecting a dry qualifying session and most likely a dry race. The regulations do allow us to carry a third set of tyres into the final session tomorrow on the basis that both sessions were wet today, although that does mean we are going to have a very busy hour trying to fit in all the necessary low- and high-fuel work."
Oracle Red Bull Racing
Max Verstappen (3rd, 1:42.786): "It was obviously raining a lot today, so the two sessions weren't very representative of what it will be like during qualifying or the race. It's good to be back on track and always nice to be here in Suzuka. We were expecting more rain so it was good that we could go out on track for as long as we did. It's a bit tricky to know where we are with pace when in the wet, but we did some basic set ups today and not much more than that. We're almost starting from zero tomorrow in the dry, but it's the same for everyone, I don't think it will make a massive difference throughout the grid. Let's see tomorrow what we can do!"
Sergio Perez (4th, 1:42.834): "It was wet out there and overall I think it was a shame for the fans today because of the weather but it looks better for tomorrow. Hopefully we get plenty of action on Saturday and then race day looks mixed so that can also be a great one for the crowd. This track is always a challenge and when it's wet even more, it is the best track in the world, I think. We have managed to get a good read in these conditions, we are fairly comfortable and have a good idea of what we need to do, so it should be a good weekend."
Scuderia Ferrari
Carlos Sainz (6th, 1:43.204): "It's been a very wet Friday, which normally means not a lot of running, but today the conditions were stable and we were able to test both the Intermediates and the Wet tyres. We've managed to learn a couple of things in these wet conditions so overall we can say it's been a productive Friday. Now it's time to prepare for qualifying tomorrow."
Charles Leclerc (11th, 1:44.709): "Overall, it was a good first day on track in terms of performance. While FP1 went well and I had a good feeling in the car, I can't say much about FP2 as my tyres were completely worn out. The weather tomorrow should be quite different to what we saw today, so FP3 will be a very important session for us to adapt to the conditions as quickly as possible in preparation for qualifying."
McLaren F1 Team
Lando Norris (16th, 1:45.885): "While conditions were pretty challenging today, the laps we did were useful. We are struggling for pace a little bit, so we have some work to do overnight. However, tomorrow is expected to be dry and Suzuka will be a very different place, so we'll work hard to get ready for FP3 and set ourselves up for quali and the race."
Daniel Ricciardo (17th, 1:46.030): "Arigato! Alright, it was fun to be back on this track. Conditions were slippery but it was actually a good time, I enjoyed it. In the morning we weren't looking too bad for the most part. It was only a few laps, but I felt relatively comfortable in the car. This afternoon, I would say there was a little less pace but it's really tricky with tyres. You don't know what people are doing and it's hard to get a real read on it. We probably have a little bit of pace to find from this afternoon's session – but tomorrow looks dry so that's going to be completely different again, and then we're not sure what Sunday's going to be yet! I think it's still useful for us, the learning we did, and we'll try to improve a few things for tomorrow – but overall, really happy to be back on the track."
Andrea Stella, Racing Director: "Today we had limited running due to the wet conditions, which also meant the Pirelli dry tyre test planned for FP2 was cancelled. We could still gather useful information on both the Wet and Intermediate tyres. We couldn't run as much as we normally do in dry Friday practice sessions because Wet or Intermediate tyres may be needed on Sunday when there is a chance of rain. This track is also quite aggressive on tyres even in wet conditions. We expect tomorrow to be dry, so the work to set up the car will be more based on simulations and experience than on the actual data gained on Friday, which is an interesting challenge, but it is the same for everyone. Hopefully, we can use FP3 efficiently and get some good preparation for qualifying and the race."
BWT Alpine F1 Team
Fernando Alonso (7th, 1:43.533): "It was a good day for us and it's great to be back in Suzuka. Although the rain doesn't help our preparations, I felt sorry for the fans who stayed out in this weather all day long. I always prefer the dry weather if I'm honest. The car felt good in both sessions for us today and it was nice to be in first position at the end of Free Practice 1. I'm excited for tomorrow and let's see what we can do in potentially dry conditions."
Esteban Ocon (9th, 1:43.884): "It's really fantastic to be driving in Japan again after so many years. I have missed this track and it was great to experience it with these cars. As expected, it was a wet one today, but we did get more running in the end than we originally thought we would. The car performed well in both sessions and we recorded some good data on the programmes that we ran today. I definitely got the most of that one set of Intermediate tyres! I'm looking forward to what looks like some dry running tomorrow and a good Qualifying for the team."
Pat Fry: "Today was obviously very wet and everyone's running was fairly restricted by just wanting to use one set of Intermediates and to do limited running on a full wet tyre without damaging them. We did enough laps to get a feel for the car balance in these conditions as well as working through our start programme. At the moment tomorrow is predicted to be dry so we will have a busy final practice to do everything that we normally would do on a Friday; a mixture of tyre evaluation and high and low fuel running. There is a threat of rain on race day, but potentially just after the race, so we will need to be prepared for all conditions."
Scuderia AlphaTauri
Yuki Tsunoda (14th, 1:45.257): "It's been an amazing experience, an absolute dream come true. When I left the garage for the first lap in FP1 I was really emotional, especially when I entered Turn 2, as I'd been watching there last time I was here as a fan. I tried to not let this get to me when driving but as soon as I jumped out the car the adrenaline hit, and it was a great feeling. I haven't driven here since Formula 4, and I'd say even my out lap today was a faster lap than I've ever done here before in Suzuka. The conditions haven't been great, with the rain, so it's been tricky to find the sweet spot with the car, as sometimes the track dried really quickly and other times the rain was much heavier. We've spent the day gathering as much data as possible and building up the pace lap-by-lap when possible with the weather, but we've still got some work to do. Tomorrow looks to be sunny, so it'll be another new experience for me, which is harder heading into Quali with little running, but everyone is in this position with the new car, so we'll see what we're able to do."
Pierre Gasly (19th, 1:47.109): "It's been good today, even if we only did three push laps so not the busiest Friday, but I'm super excited for tomorrow. We did everything we planned to, we only had one set of Intermediate tyres for the full day, but we'll be running in the dry tomorrow, and it looks like the race may be dry too, so it'll be important to get as much out of the car as possible in FP3. I'm confident though that whatever the conditions over the next few days are, we can be competitive and I'm looking forward to getting back out on this great track."
Jonathan Eddolls, Chief Race Engineer: "We came into the weekend with the risk of rain for Friday being high, and in fact the whole day has been a washout. So, we didn't get to complete the planned Pirelli test in FP2. Instead, we ran an Intermediate tyre, that did not come out of our race allocation, and a Wet tyre, but had to make these last across both sessions. The Wet tyre is robust so we could complete some good running on this when the conditions called for it. The Intermediate was faster, but was more prone to aquaplaning. We completed a few test items on the Inters, but the fronts quickly grained with the high energy input from the track. This meant we had a lot of understeer, therefore it is hard to learn much when the car has this balance. We did try some sustainable running to wear through the graining in preparation for Sunday, given there is a rain risk for the race. Tomorrow is looking dry, so it will be a busy FP3 programme trying to prepare for Quali and the race in the space of one hour, but at least we can carry one of today's dry tyres over to help."
Aston Martin Aramco Cognizant F1 Team
Sebastian Vettel (15th, 1:45.261): "All the banners in the grandstands and the fans around the circuit make it feel like the closest thing to a German Grand Prix without the German flags! It is great to see so much support. Out on track, the grip was not great, but it was good fun – it is still a great track, even if it is wet, and I enjoyed myself. Obviously, it was all about being out at the right time if you wanted to set a competitive lap-time – but that was not the most important thing for us today. There is probably not much we can carry over into tomorrow, when it is expected to be dry – but we were still able to test some things, especially in the second session, and they might give us some added direction."
Lance Stroll (18th, 1:46.776): "Despite the wet weather today, we were able to learn some things here and there on the track. Tomorrow will be a complete reset, with it expected to be dry, although there is still a chance of rain on Sunday. If the conditions are like this in the race, then what we have learned today will definitely come in handy. Either way, I am loving being back in Japan; the energy is great and the circuit is fantastic, even in these conditions."
Williams Racing
Nicholas Latifi (12th, 1:44.962): "It's my first experience here and it's a very fun track to drive. It's much easier to learn a track when it's dry as you can focus on hitting your references and not have to worry about sliding around out there. Even in the wet there's still a lot of grip, so I can only imagine what it's going to be like in the dry and hopefully we can experience that tomorrow. It's yet to be seen how much of today will be useful for the coming days as there's still a chance of rain on Sunday but unlikely for Saturday. Overall, I'm happy with today with no real issues and now our focus is on maximising the dry running for tomorrow."
Alexander Albon (13th, 1:45.039): "Even in the rain this track is amazing; I love it round here! Today wasn't too bad and I enjoyed it. It's hard to get a real feel for the car in the wet, but we were not too bad in terms of competitiveness, so we need to see what happens tomorrow when it's dry. The target is a little unknown, but the simple goal is that we are aiming for Q2."
Dave Robson, Senior Race Engineer: "It has been a slightly odd day with the wet weather persisting all day, the Pirelli dry tyre testing consequently cancelled, but FP2 remaining at 90mins duration. With a risk of rain for Sunday, there was little appetite for running multiple sets of wet and intermediate tyres. Although this limited the amount of running that we could sensibly complete, we were still able to do some useful testing and start to get Alex and Nicholas into the rhythm of Suzuka. The weather forecast for tomorrow is for dry conditions and so we will have to start again in FP3 and understand how the Pirelli slick tyres work here. We should be able to apply some of the learning from today to the dry and therefore start the session in a good place."
Alfa Romeo F1 Team ORLEN
Valtteri Bottas (8th, 1:43.733): "It's great to be back in Suzuka, it's definitely my favourite track and I really enjoyed driving here, even in the wet. It hasn't been a bad day for us: the car performed pretty well and, while in the past we sometimes struggled on wet tracks, today everything was ok as we got the tyres to work – this is a track that creates a lot of energy. We tried the new front wing we brought here, which worked as expected: of course, due to the weather we weren't able to collect all the data we would have wanted, but the feeling we were expecting was there and it gave us more stability in the high speed corners, which is what we needed it to do. I am looking forward to tomorrow."
Guanyu Zhou (10th, 1:44.525): "I loved driving this track and seeing so many fans with fancy hats and costumes – they are so passionate, especially after three years without Formula One here. The conditions were not easy, it was very slippery, but I really enjoyed it! It was my first time ever driving on this track and there was a lot of standing water, which made the day very difficult: but the car was performing quite well today, and that's what is important. I haven't tried the new wing yet – we saved it for tomorrow, given that the conditions made it quite risky, but the feedback from Valtteri is positive. After a couple of races with no upgrades, we are looking forward to seeing how much of a step we make with this."
Haas F1 Team
Kevin Magnussen (5th, 1:43.187): "It was wet all day today so I was worried we weren't going to get any running but actually it was kind of good conditions for intermediates, at points it was a bit too much for them, but we got quite a few laps in. I'm happy for the fans who came out to watch the cars go round to actually see some running."
Mick Schumacher (20th, No Time): "It was quite wet and unfortunately, we had an aquaplaning moment which ended up in us losing the rear. We've lost time and we've got to do a big job tomorrow, but the track is great, the car felt great today so hopefully we're in a good position. Tomorrow should be dry so we'll see what we can do from there."
Guenther Steiner, Team Principal: "It was a mixed day today. The actual testing in FP1 and FP2 was good but unfortunately Mick could only do FP1 because on the way back from his practice start, he crashed pretty heavily and we couldn't fix it for FP2. The test program from Kevin was good and we got time to do some major changes on the car, to do a back-to-back of different set-ups thanks to the additional 30 minutes which were supposed to be for the prototype tire test. Tomorrow we will again have two cars out running in FP3 and we'll go from there."