Japanese GP 2022
OCTOBER 8, 2022
Saturday Team Quotes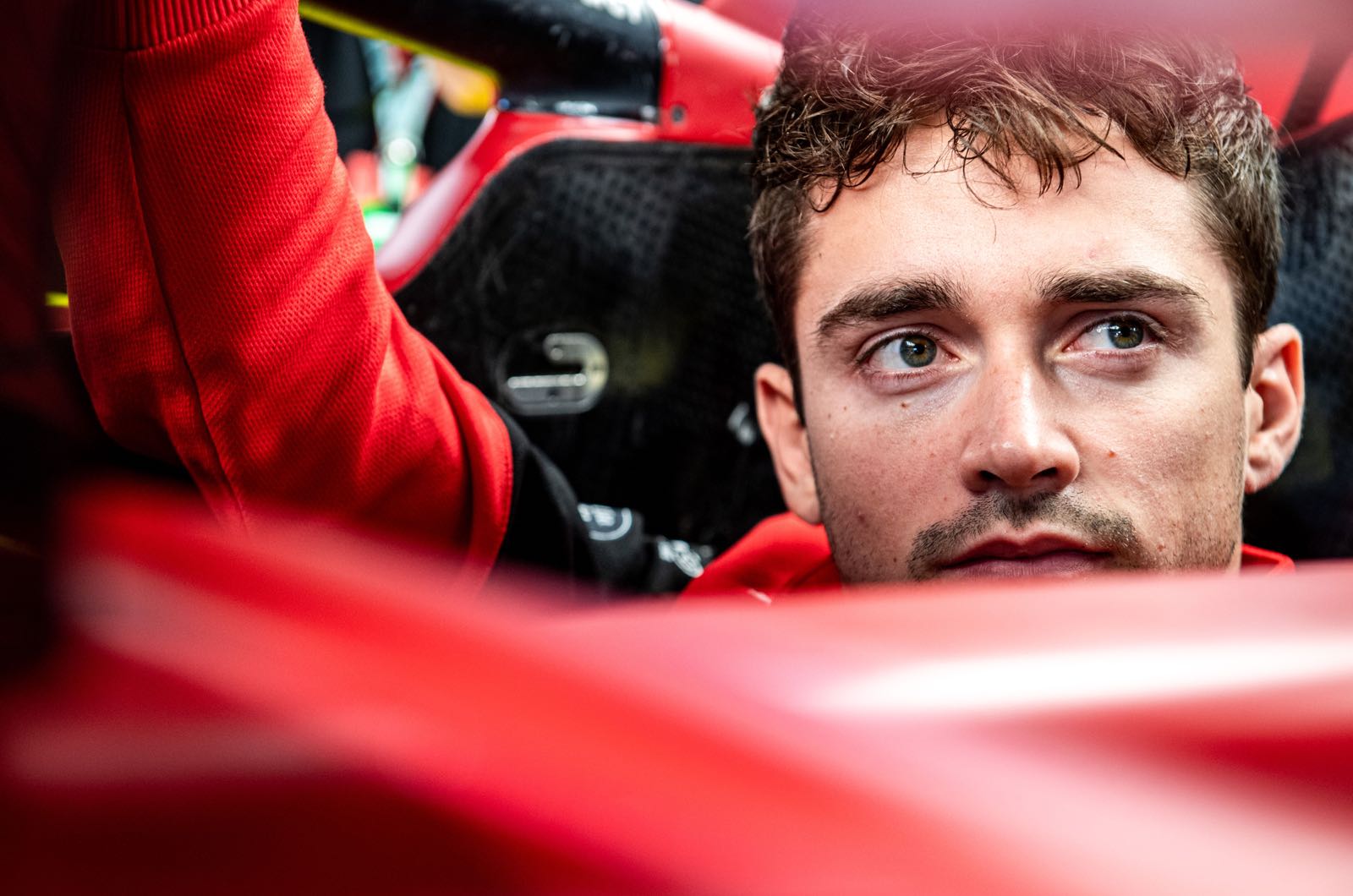 © Ferrari
Mercedes-AMG Petronas F1 Team
Lewis Hamilton (6th, 1:30.261): "We knew coming to this circuit that we wouldn't be competing for the front row or the win - the Red Bull and Ferrari are in a different league here, and we have some fundamental limitations with our car. It feels good to drive and it was a clean session for me, but we are just a long way off in terms of the ultimate pace. We are pushing as hard as we can and it feels strong in the corners, but we are losing on the straights at this circuit. For tomorrow, I hope we will be a little bit closer, and maybe the weather will play a role, too. I don't think we can race the cars in front in a straight fight - but I hope we can beat the Alpines and my focus is simply on scoring a better result than we managed last weekend."
George Russell (8th, 1:30.389): "P8 is not where we hoped to be qualifying here in Suzuka. We didn't expect to quite be in the fight with Red Bull and Ferrari, but we are a long way off them, and in fact had our own close battle today with Alpine. We know that our car has a lot of drag and on circuits like this, where you need a lot of downforce but also to be slippery on the straights, we tend to lose out. That's something we are working towards correcting for next year, but it takes time to do so. Looking ahead to the race, I think we will have stronger pace than we showed today: our long runs in FP3 were decent, but I'm not sure if it will be enough to race the top four cars tomorrow."
Andrew Shovlin: "We've been struggling with the car in the dry today; the race work in the morning wasn't bad but the single lap was proving difficult, and the tyres just weren't biting. We're losing a lot of time on the straights, but the corners are not especially strong either. By qualifying the balance was in a reasonable place but the lap time just wasn't coming. We stayed on the higher rear wing levels as the degradation in the morning was very high and there is a growing risk of rain in tomorrow's race. In both of those situations, the wing level should be a benefit. It will not be a benefit getting past the Alpine cars, though, which we need to do early if we stand any chance of getting into a race with Red Bull and Ferrari."
Oracle Red Bull Racing
Max Verstappen (1st, 1:29.304): "It was pretty incredible to drive here again, especially in qualifying when you are on low fuel, these cars really come alive through the first sectors. I am really happy to be on pole and in general, just super happy to be back here in Japan. During qualifying, I lost a part of the duct from the car in my final lap so that's why I couldn't really improve, nevertheless the first lap was good enough. It will be interesting to see what the weather does tomorrow, there may be rain during the race, I am quite confident that we have a good race car so let's see what we can do. I'm not thinking about the championship still, I'm just taking it day by day. The most important thing is that we have a competitive car, and we had that today in qualifying. We still need that perfect race."
Sergio Perez (4th, 1:29.709): "It wasn't a great day for me in qualifying but we will try everything we possibly can for tomorrow. It doesn't change my life much if I am third or fourth, the most important thing is that we have a strong race car and we are able to progress through the field. I have to push tomorrow to be in contention and I have to be in the mix. I believe I can be strong in the race, so I am massively looking forward to it. I think it's too early to predict the weather because it can change so rapidly here, the rain could come at any moment in the race or it might hit earlier. I think strategy will play a role tomorrow and if I am able to get a Ferrari at the start it would be good. You have to be quick around here and the degradation is pretty high so I think it will come down to who has the better pace."
Christian Horner, Sporting Director: "It was a very close qualifying; Ferrari has been quick all season so we were not expecting them to be any different here. However, it was a big lap from Max and to secure pole here ahead of what looks like varying conditions tomorrow is hugely important. Sergio starts on the second row and always seems to race better than he qualifies, so we are looking forward to seeing what is to come from him tomorrow. The variable conditions could play into his hands and I think he will be in the mix, two Ferraris in a Red Bull sandwich! With regards to the incident with Max, we are happy with the stewards findings. I don't think Max was trying to block him, I just think he wasn't expecting someone to come up behind like that and certainly not again when Lando did it on the final run! I don't think there was any malice to it though, on either side. Plenty of racing to do tomorrow and we are looking forward to an action packed day here at Suzuka."
Scuderia Ferrari
Charles Leclerc (2nd, 1:29.314): "The car felt good and it's always great to drive on this track, especially in the first sector because it has so much grip. It's a very fast lap, but the more you push in the first sector, the slower you are in the last due to the tyres overheating. I think it will be an interesting race. It will be a challenge for everyone to make the right calls with unpredictable weather ahead."
Carlos Sainz (3rd, 1:29.361): "It was a good lap, clean all the way until the last chicane where a snap exiting the last corner cost me quite a bit of lap time. That was frustrating, but we'll keep pushing. In general, the car felt good today and I've been comfortable with the balance all weekend. Tomorrow, we don't know what the weather will be like, but we are aiming to get both cars up there again. We'll give everything until the chequered flag!"
Laurent Mekies, Sporting Director: "It was an extremely close qualifying session: we missed pole position by just one hundredth of a second with Charles and half a tenth with Carlos. It's a shame as we know on this track pole is very important, however there were still a lot of positives for us today, as our car was very competitive with both drivers. Together with Max, they were in a league of their own on a track featuring all types of corners and that says a lot about the quality of their cars. So, we can be pleased with the performance of the F1-75, and we were also able to save one set of Soft tyres with both drivers in Q2. It's a sign that all the work we have done in Maranello over the past few months is paying off, so a big thank you goes to everyone back at the factory. Yesterday the track was always wet, so today we had to start from zero. Both our drivers worked perfectly with the team and were able to get into a rhythm immediately, putting in some solid laps and improving progressively through the sessions all the way to Q3. Tomorrow it's going to be a very long race with many aspects playing their part, starting with the weather. Tonight we will analyse all the data and prepare for every possible scenario. Max will be as usual super fast, but we will do our best to try and battle with him right from the first lap."
McLaren F1 Team
Lando Norris (10th, 1:31.003): "Tricky qualifying, probably the most difficult we've had this year. I think there was a little bit more to find, but probably only one or two more positions on the grid. Our competitors look quick, but we'll look for opportunities to make up places in the race tomorrow and hopefully keep up the fight in the Constructors' Championship."
Daniel Ricciardo (11th, 1:30.659): "I'm disappointed with the overall result because the session was looking good. From the first lap, it was strong and I was comfortable. I think the 1m30.8 was a quick time on the first set of tyres. From there we were competitive, but it was hard to get much more out of it, and we were trying to push a bit more, but that hurt some other corners. I was hoping we would be able to keep gaining, especially with track evolution, but the gains at the end were very minimal, and it was really hard to make that next step. I think it was looking pretty good and then obviously to be out in Q2 was not really what we thought was going to happen. I think we were relatively competitive, but I think we were just ultimately missing that last little bit. 0.003s is painful, but we'll try again tomorrow!"
Andreas Seidl, Team Principal: "We're not entirely satisfied with P10 and P11 in qualifying at Suzuka today. Maximising everything would likely have gained us another place or two. At the same time, we have to acknowledge our primary competitors in the Constructors' Championship have, this weekend, been better so far. But the points get distributed tomorrow, and that's a whole new day. Our starting positions give us a decent chance of being in the battle for good positions. It's going to be a tricky afternoon if the current weather forecast materialises, and it will be important to execute a clean race regardless of conditions. We're looking forward to the Japanese Grand Prix. It's a great circuit, filled with fantastic, enthusiastic fans, and we want to give them something memorable to cheer."
BWT Alpine F1 Team
Esteban Ocon (5th, 1:30.165): "I'm delighted with today and how the weekend has unfolded so far. Fifth place is a great result for us, just behind the Red Bulls and the Ferraris. After the disappointment of last weekend, it is very satisfying to bounce back in this manner and show our potential. The upgrades are working well, and our car suits this circuit, so it's a job well done from everyone trackside and at both factories. We are in a solid position to score points with both cars tomorrow so we are fully focused on finishing our Japanese Grand Prix weekend strongly."
Fernando Alonso (7th, 1:30.322): "I'm pleased to be starting in seventh tomorrow. I think we might be even more competitive in wet conditions, so I'm hoping for the weather to be a bit mixed tomorrow. If it's a chaotic race, then we have a lot less to lose than the cars in front of us who are battling for the Championships. The car has felt great all weekend and I'm surprised about how close all of the teams are this weekend, with only a few tenths of a second separating a number of cars. I'm positive heading into tomorrow's race. If there is some rain, we will stay focused and there is a possibility to be in the top five by the chequered flag."
Alan Permane, Sporting Director: "We are very happy with our Qualifying performance today and, clearly, our car is working well at this magnificent circuit where it's brilliant to be back racing. We put together three solid Qualifying sessions today where everything clicked into place and I think that is reflected on the timesheets. Esteban did a great job to keep finding improvements throughout the day to qualify in fifth place. Of course, points are awarded on Sundays and if we can keep our two current places then we'll be in a great spot. We'll remain realistic, though, be wary of our close competitors, and I think we can have a competitive race tomorrow in any conditions. There is a high chance of rain but, in the wet on Friday, we had no issues so we're looking forward to whatever may come our way."
Pat Fry:
Scuderia AlphaTauri
Yuki Tsunoda (13th, 1:30.808): "I'm reasonably happy with today. We made a good step up from FP3 but were unfortunately held back by the brakes, I struggled a lot with them and had a big lock-up in Q1, then lost a lot of confidence in Q2. I think the balance of the car was looking good and we could have looked to get into Q3, so it's a bit of a shame we weren't able to. That aside, it's been great to see all the fans here, it's a special opportunity for me, as I've never experienced this level of fans in our team kit, wearing my caps and clapping so much at every corner – it's been fantastic and given me a real boost. Now we must look to the race tomorrow, there's a possibility of mixed conditions and we're in a good position to hopefully make our way forward if the opportunity arises."
Pierre Gasly (17th, 1:31.322): "I'm disappointed with today. We replaced the front left brake disc ahead of Quali and then on the out lap we were behind a lot of cars, which meant we couldn't get enough temperature into the brakes. Every time I touched them, I had front locking, which was really tricky, and meant our last attempt went to waste. Tomorrow will not be easy from where we start, but it might be raining. I hope it will be, because it would bring more excitement and more opportunities to make our way forward. Our car works well in the wet, so I think that these conditions would be best for us."
Guillaume Dezoteux, Head of Vehicle Performance: "The third free practice session was difficult. It was our first opportunity to setup the cars for a dry track and we struggled to find the correct balance, especially on Pierre's side of the garage. It pushed us to take more risks than we would usually do, and we made several significant setup changes on both cars ahead of Qualifying. Unfortunately, we were hampered by brakes material issues that we need to understand and analyse in detail. Both drivers struggled a lot in Q1 with front wheel locking, and while Yuki did manage to perform a good lap, Pierre couldn't and got knocked out. In Q2, Yuki managed to improve, and he extracted more from the car, but still the confidence in braking wasn't there. Looking ahead to the race there are still opportunities, especially if the rain hits the track in the middle of the race, as some forecasts suggest. We will review the different scenarios tonight and prepare both cars in the best possible way."
Aston Martin Aramco Cognizant F1 Team
Sebastian Vettel (9th, 1:30.554): "It is so much more fun around here than at the other circuits! I mean, the cars and the speeds are great – but at this place you feel alive. I have enjoyed it so much over the years – and I had a wonderful day today. We will see what we can do tomorrow, but I am just very happy about today. At the same time, I am a bit sad – because it is the last time I will ever tackle this track in qualifying trim. I do not mind if it rains tomorrow – I cannot influence the weather! – but I think wet conditions would probably be a bit better for us. Still, we had a strong day today and I think we can make a difference managing the tyres whatever the weather. Laps like these make me feel sad about leaving F1."
Lance Stroll (19th, 1:31.419): "Unfortunately, I locked up in the hairpin at Turn 11 and lost three tenths, and that was the difference between us making it out of Q1 today. However, the car was good to drive, and it was great fun out there driving Suzuka in the dry once again. It is not ideal to be starting from 19th, but tomorrow is a new day and we will see what we can do in the race. If the weather does turn wet again as it did on Friday, it will provide some good opportunities for us to move up the order."
Mike Krack, Chief Operating Officer: "Sebastian drove a strong lap in Q3 today and will line up in P9 for tomorrow's Japanese Grand Prix as a result. From there, he is in a good position to drive for points. Lance was on a quick lap in Q1 when unfortunately he locked up into the hairpin, ending his chances of making it through to Q2. But the weather forecast is uncertain for tomorrow afternoon, so a points-scoring finish is not impossible for him."
Williams Racing
Alexander Albon (16th, 1:31.311): "It's frustrating to miss out on Q2 by just half a tenth, as I definitely feel like we had the car today to be in Q2. The very end of our outlap was slow because the cars in front of me were very slow through sector 3, so the tyres weren't quite ready. I was sliding around very quickly early in the lap and that causes the tyres to overheat. More than any other circuit that is very detrimental to lap time. Our race pace was okay in the dry, so we'll need to wait and see what happens tomorrow."
Nicholas Latifi (20th, 1:31.511): "From how FP3 went, Qualifying went better than expected. It's been my first time driving this track in the dry. However, I only managed to do two representative laps in FP3. The track itself is quite difficult to get up to speed with as It requires a lot of commitment and full trust and confidence in the car. To only have a few laps to really put it on the edge was unfortunate. I'm happy with the steps I made and as a team we went in the right direction with the car. To be a few tenths from Q2 is a positive as it wasn't a perfect lap with a few mistakes in the middle of it. We're very fast in the straight here so if we manage to get ahead of cars tomorrow it could be interesting."
Dave Robson, Senior Race Engineer: "The car had the pace for Q2 today and so to miss out again is disappointing. We needed to get everything right to progress and we didn't manage that today; we need to look at the session and understand how to be better. The tyres need careful preparation to get a good lap out of them and with Alex having to slow down for the cars ahead just before opening his lap, he couldn't get the perfect preparation. Nicholas made some sizeable changes to his car after FP3 and although these were in a good direction and gave him a more competitive car for qualifying, he couldn't maximise the performance in the two laps that he had in Q1. It looks certain that there will be rain at some point tomorrow and this could easily affect the grand prix. Although we are starting the race from further back than we expected, there should be opportunities to get back to a good position before the chequered flag."
Alfa Romeo F1 Team ORLEN
Valtteri Bottas (12th, 1:30.709): "It feels like we really got everything out of our lap and we didn't leave anything out there: unfortunately, that was not enough for a spot in Q3, and we missed out by less than 0.1s. Both my Q2 laps were pretty good, but it shows how close the midfield is that a mere few hundredths of a second can make such a big difference: it's disappointing, but we're not far off and we know we will be battling for the points. Tomorrow is when it really matters and the forecast is still not clear yet. We looked good in the rain yesterday, so I wouldn't mind some wet weather we can use to climb a few places."
Guanyu Zhou (14th, 1:30.953): "I am quite happy with what I could do today, especially considering I only had one session to get used to this track in dry conditions, being my first time on this very technical circuit. We made good progress throughout the day and things were looking quite promising, but Q2 was really tight in the midfield. We were so close to Q3, but in the end it was a bit too far from us: still, we gave everything we could. We are still in a position to target the points tomorrow – and, if it rains, all bets are off. We looked strong in the wet on Friday: if there's a bit of rain tomorrow, we could have an even better chance, and it could be a really entertaining race for everyone."
Frédéric Vasseur, Team Principal: "Today was another demonstration of how close the midfield is, as we missed out on a place in the top ten by less than 0.1s with Valtteri. I am also pleased for Zhou – Suzuka is a very complex track, and he did really well as in his first experience on this circuit. Even though we would have wanted to be in Q3, we can be optimistic about tomorrow's race; we are close to the points with both cars, on a track where overtaking is possible and where we have pace. The weather is the big question going into Sunday: we looked strong in the wet yesterday, so a rainy afternoon tomorrow could play to our strengths. In any case, we know we can be in the fight: we'll give all to bring home some points."
Haas F1 Team
Mick Schumacher (15th, 1:31.439): "It seems like we pretty much got the maximum out of it. I think maybe one position more could've been in it, but we start the race on the clean side which might actually be better for tomorrow's race start. I hope for rain, our car in the rain is pretty good and our performance in it on Friday was great, so I'm very much looking forward to some mixed conditions."
Kevin Magnussen (18th, 1:31.352): "It was a pretty smooth qualifying, but I didn't have any more in it. Mick and I have different set-ups but it was two tenths that I was behind. My lap was good, there were no mistakes and the car actually felt fine so it's one of those where you're P18 but it's hard to understand why. There's some chances of mixed weather tomorrow and in this position you hope for that."
Guenther Steiner, Team Principal: "It wasn't the result we hoped for today. Kevin went out in Q1 which was pretty disappointing, and Mick made it into Q2 but he couldn't better his time from Q1. We start where we start tomorrow but there could be mixed conditions and maybe we can make something out of it. We just need to make sure we are not making any mistakes."