Japanese GP 2022
OCTOBER 9, 2022
Sunday Team Quotes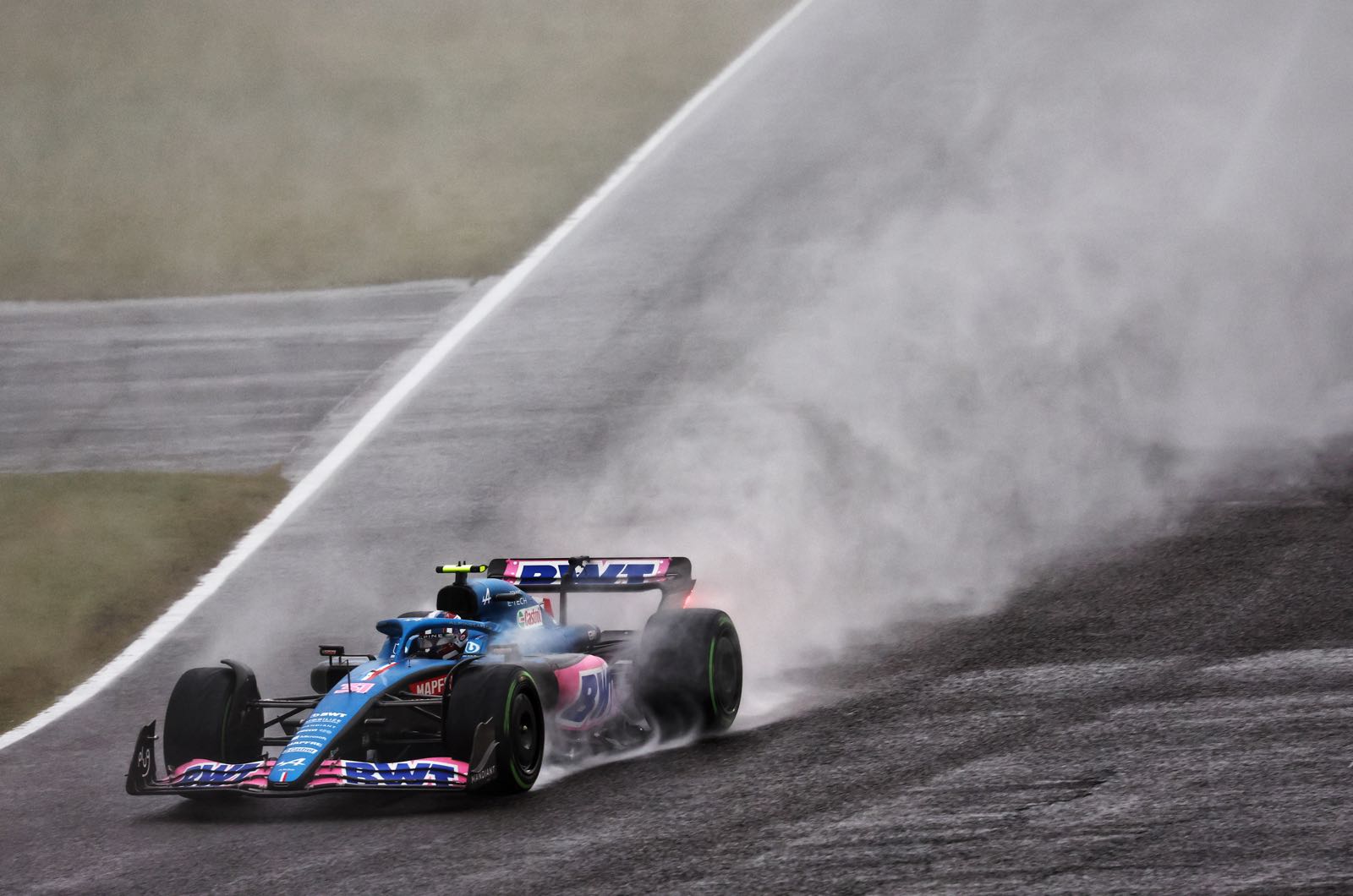 © Alpine
Mercedes-AMG Petronas F1 Team
Lewis Hamilton (5th): "Once we got racing today, I had a blast out there - it was so tough in the conditions, hard to see and that's exactly how motor racing should be; a real challenge for us all. I wish we had been able to go longer and do more laps for the fans who waited so patiently, but we ran to time and were beginning to lose the light. In terms of my race, I tried everything I could against Esteban but like we saw yesterday, we were just too slow in a straight line. As soon as I pulled out of the tow, he was able to pull away from me, and I just couldn't get past even though we had a big pace advantage. I was trying every line and got so close, but he drove very well and didn't make any mistakes, so that was the maximum we could do today. Now we need to pick the bones out of these two races and learn our lessons to maximise the points we can score in the final four races. Finally, congratulations to Max - he's done exactly the job he needed to do to win his second title. We know what our problems are with this car, and I believe we have the team to come back stronger next season."
George Russell (8th): "We need to review and see what we could have done better today. I think we had a stronger car than the result reflects, and that we could have been P6 today. I think that stacking in the pit lane cost me positions, and that made it a frustrating afternoon, so we need to look at it and see what the other options were. I made some good overtakes after that - but it was a case of trying to recover what we had lost. It was a strange afternoon overall: the conditions at the beginning were impossible, not with the grip but in terms of visibility and the amount of spray this generation of cars generates, and we need to learn the right lessons from the incident with the recovery vehicle on track while we were running behind the Safety Car. Overall, this has been a difficult double-header for us, and we've not scored the points we should have - so we need to regroup, focus on the final four races, and try to extract everything from the car we have under us. And of course, congratulations to Max on his second championship; the outcome has been clear for a while, but he and Red Bull have done an exceptional job this year."
Andrew Shovlin: "Well done to Max on the championship, he's driven brilliantly this year. Our weekend has been pretty tough but today was frustrating: the car had good pace, but we were just stuck behind cars and had no chance of getting through without DRS. The conditions were clearly tricky, but it was good that we were able to get the race going in the end and give the fans some entertainment. There was only really the one decision point to make the in race which was when to come in for Inters. It looked like the optimum would have been to follow the Safety Car in when we restarted which was surprising given the amount of water on the track. We'd called to bring both in together and that cost us a bit of time in the stops for George with the stacking; he'd have joined a couple of places further up if we'd waited a lap which would have given him a better chance of being part of the race that Lewis was having with Esteban. Saying that, Lewis was having a frustrating time trying to get through. He had good pace and we'd opted for a high downforce level expecting rain, but he just couldn't find a way past due to the straight-line speed. So, plenty of things over the last two races that we can improve on, not least giving the drivers a better car in qualifying so we can hopefully start closer to the front. We'll be busy for the next week getting ready for Austin and hoping to get ourselves back into a position where we are racing for the podium positions."
Oracle Red Bull Racing
Max Verstappen (1st): "This is crazy! To win here in Japan is really special, I feel really proud that we could do it here. When I crossed the line, I didn't know that I was World Champion, there was a lot of confusion but I thought it was quite funny. The first Championship was very emotional and this time it feels very different, it feels even more beautiful because of the season we've had. The teamwork has been unreal, we kept on pushing, kept on believing and kept on improving the car. As a Team we've made very few mistakes, you can't be perfect but for most of the races we were close to it. Working together with Honda has been incredible and of course a lot of my thanks goes out to the Team here at track, back at the factory and everyone that's been contributing with the Red Bull Powertrains division. Everyone has been working flat out and has a huge amount of motivation. Checo has been an incredible teammate and now the full focus is on the Constructors Championship. Let's see what we can do in Austin."
Sergio Perez (2nd): "I am very proud of what Max has done this season; he has stepped up as a driver. I was fighting with him in the beginning but then halfway through the year he moved into another gear, the way he drove in some races was unbelievable. It is a massive day for the Team, to do this in Japan in front on Honda and with a one-two is incredible. Hopefully soon we are able to secure the Constructors Championship for our Team, that will be massive. I am massively looking forward to the rest of the year. It was a great battle with Charles today, it was nice that we got to race because at one point we though we wouldn't get to. It was a fantastic fight and we were pushing him hard towards the end, it was so difficult to overtake without DRS but I kept the pressure on, he made the mistake and he got the penalty to give me P2."
Christian Horner, Sporting Director: "What a race! Coming to the end, we were not sure we would be awarded full points, but to finish like that is beyond all of our wildest dreams. Max was truly dominant, he has been all season, but he was driving on a different planet today, finishing nearly 27 seconds in front of everyone else is an unreal effort which encapsulates his season perfectly. That is our 14th victory which is a record for the team and exemplifies how he and the team have raised it to the next level at every race. We are incredibly proud of and grateful for all the hard work put in by him and the team, both here and in Milton Keynes and all our partners for helping to make it happen. To achieve this Championship is truly special and to do it here in Japan with Honda makes it even more special. Checo has also had an incredible run, his season has been equally impressive. He is 2nd in the Championship and we are all working hard to keep him there. Equally, we are working to bring home the Constructor Championship after eight long years. So the season isn't over by a long shot, there is still a lot of racing still to do and we are looking forward to getting back to it in Austin."
Scuderia Ferrari
Charles Leclerc (3rd): "I gave it my all, but it was a difficult race for us today. We were strong in warming up the tyres in the first few laps, but then it all faded away. Especially at the end, I struggled with front tyre degradation and it was really difficult to keep Checo (Perez) behind me. I congratulate Max (Verstappen) and Red Bull for an incredible season, they've done an excellent job and deserve the title. We will use the last four races to work on our race execution, tyre management and becoming a stronger team all-round so that we can mount an even better challenge next year. We've already been making steps in the right direction in the past two races and we will keep on pushing this way until the end."
Carlos Sainz (DNF, Accident): "A tricky and disappointing Sunday. By the time the race started the call between Intermediates and Wet tyres was very close, but to be honest with either tyre the visibility would have been zero, which was the biggest limitation. I tried to get out of Perez's spray and found myself in a big puddle, had aquaplaning and couldn't do anything to hold the car. At that moment my only concern was not being hit. I was in a dangerous position in the middle of the track and I knew the other drivers couldn't see me. Luckily for everyone, nothing worse happened today. We'll reset and go back at it in the USA. Congrats to Max Verstappen and Red Bull for the Championship title."
Mattia Binotto, Team Principal: "First of all, congratulations to Max on taking his second world title in what has been a great season for him. He deserves it. For our part, the outcome of this shortened race is rather disappointing, especially for Carlos who had to retire on the opening lap in really difficult conditions. Charles drove a good race overall, but unfortunately, he suffered with tyre wear on the Intermediates after pushing very hard in the first few laps after his pit stop. Now we turn our attention to the final four races, ready to fight in Austin in a fortnight's time."
McLaren F1 Team
Lando Norris (10th): "Firstly, I'm glad we got a race today. The Japanese fans have been amazing here all weekend, and they waited in the rain for ages, so I'm glad we could give them that. Of course as drivers we always want to race. The race itself was a tricky one. I lost a lot of positions in the first start which was unfortunate, but then made up for it with the pit-stop, and it was good to come away with a point. Finally, congratulations to Max on winning a second World Championship."
Daniel Ricciardo (11th): "I'm happy we got to race today. It was looking very unlikely so, as a driver, of course, to have that opportunity and have a bit of fun, I enjoyed that, and more so for the fans, especially sitting out in this weather. The end result was just really a case of when we fit the Inters, which was tricky. It's not like a normal situation where it's ready and you just go. There are a few things to consider. I think the cars that went in, like Vettel certainly capitalised, so that's where we lost out today. Otherwise, I don't think our pace was too bad but it was also just a case of managing the tyres. We have some things to improve but ultimately, I'm just glad we made a race for the fans today. Congratulations to Max on winning a well-earned second Drivers' Championship."
Andreas Seidl, Team Principal: "It was a disappointing Sunday afternoon for us. On Daniel's side, despite moving up some positions at the initial start we were too conservative at the restart, staying out for too long which resulted in losing positions and dropping out of the points. On Lando's side we unfortunately lost several positions at the initial start which we then recovered by pitting at the right time following the restart. Overall, we were not as competitive as we would have liked to be. We will now use the time we have before Austin to see how we can extract more. Thanks to the entire team here at the track, back home and HPP for completing an intense double header. I'm happy for the great Japanese fans that got to see some racing in challenging conditions. Also, congratulations to Max for his second World Championship."
BWT Alpine F1 Team
Esteban Ocon (4th): "To finish fourth is a fantastic result for us, especially in these conditions. It was a difficult start with the rain and poor visibility, so we had to be fully focused to get through the early stages. I'm glad we managed to race and reward the fans who have been so good in their support all weekend. Racing Lewis [Hamilton] is always a pleasure and I was having to drive while looking in my mirrors the whole time. Congratulations to Max for winning the world championship. He deserves it after dominating and driving brilliantly at every race. We leave Japan with a great haul of points, claiming back fourth in the Constructors' Championship."
Fernando Alonso (7th): "It was a fun but very chaotic race today and I'm glad we managed to put on a show in the end for the fans. We scored some good points and I think we could have scored even more. It was a difficult race to manage with the wet conditions, safety cars and the red flag. There were also couple of incidents which I'm sure will be reviewed to improve for the future. Finally, congratulations to Max [Verstappen] on winning the Championship. Overall, it's very well deserved and hopefully next year he has more competition!"
Otmar Szafnauer, Chief Operating Officer: "It was certainly not an easy race across the board today with the challenging conditions bringing some very hard decisions for everyone. Firstly, I think it was great that we were able to have some racing today and repay the loyal Japanese fans who have been excellent all weekend. At one point it looked like there might not be any competitive laps due to the persistent rain, which meant poor visibility for the drivers on track. As a team, we can be pleased with our points collection from this race with Esteban delivering a fantastic result in fourth place after a supremely well managed race and Fernando in seventh to score 18 points. We've been strong all weekend here across every session, so we are deserving of the points we scored today and we move back into fourth in the Constructors' Championship. It's been a busy two weeks for the team across both Singapore and Japan and the hard work will continue as we look ahead to the next double header in Austin and Mexico in a fortnight. Congratulations to Max Verstappen on winning the title. He's been magnificent all season and a pleasure to watch."
Scuderia AlphaTauri
Yuki Tsunoda (13th): "It's been a difficult afternoon. I obviously wanted to finish in the points, so it's a real shame that I wasn't able to make it today. I think that I did the best I could today and extracted the most from the car, but the pace just wasn't there. The whole weekend here has been so exciting still, I've really enjoyed my first experience of driving an F1 car round my home track and I want to say a huge thank you to all the fans that have come out to support both myself and the team, especially in these rainy conditions today. Also, big congrats to Max for winning the World Championship – it's great that the Japanese fans have been able to witness that here today!"
Pierre Gasly (18th): "We wanted to try something different today, however it's very difficult to overtake on this track and we tried our best, but at the end it didn't really work out for us. It's a shame as it's a special race weekend for us and Honda, but at the same time it's great that Max has been able to win the Championship. He has been incredible, winning consistently, and has always been performing at his best and has got everything to be World Champion, so a massive congrats to him, to Red Bull and to Honda. It's extra special to win the title here in Suzuka, so I'm really happy for them."
Guillaume Dezoteux, Head of Vehicle Performance: "It's been a difficult Sunday for us, and we didn't manage to get points today in Suzuka. Starting from the pitlane, Pierre was able to catch the pack immediately, but got hit by a panel that was broken during the crash of Carlos. This broke his front wing and front wheel winglet, however we were able to repair this during the red flag period. At the restart visibility was very bad, but the track grip was good enough to get on Inters straight away and gain on the cars that stayed on Wets. The degradation increased fast, and we decided to stop again, which unfortunately wasn't enough to pass the group of cars in front of Pierre. With regards to Yuki's race, it started pretty well by gaining positions before the red flag. Then, he lost a bit of time behind Norris on his first stint. We decided to also stop him for a second set of Inters to attack the group of cars held by Latifi. Yuki did a number of nice overtakes and made his way through the field, but it wasn't enough to get to the points today sadly. While we hope for better in the next races, I would like to congratulate Max for this amazing second World title."
Aston Martin Aramco Cognizant F1 Team
Sebastian Vettel (6th): "Obviously, it was a shame that we only got half a race – but at least the people in the grandstands got to see some racing. We were waiting in the dry for the restart, but I imagine it must have been rather unpleasant to sit outside in the wet for a couple of hours. I got a very good start – but then I collided with another car at the first corner. I really could not see anything – I am not sure, maybe I aquaplaned or I made a mistake – but I lost all the positions I had gained and ended up last. When the race restarted, we made a good decision to box immediately for Inters. It was a great stop, then I pushed like crazy and managed to undercut most of the field. It has been a dream weekend – for us to score eight points is a mega result. I feel sad to have driven my last race here, but it has been a wonderful weekend, and to all the fantastic Suzuka fans I can only say, 'Thank you'."
Lance Stroll (12th): "Before we got going, I had noticed a strip of drier asphalt and decided to go for it at the start. It worked out really well – it was a really fun first lap. There was not much grip on those early laps and very little visibility; it was a tough call for Race Control, but it was clear that the race had to be stopped when Carlos [Sainz] crashed. I do not think the visibility was much better when we restarted, but it did get better towards the end. All in all, it was an eventful race, the fans were incredible with the weather, and now we look ahead to Austin and Mexico City."
Mike Krack, Chief Operating Officer: "Once the race finally got underway, it was a great one, albeit not a long one. But the main thing is that it provided excellent entertainment for the always-enthusiastic Japanese fans who braved the wet weather to fill the grandstands, and for viewers all over the world who stayed glued to their TV sets despite the long hiatus in the on-track action. From an Aston Martin point of view, we scored our second consecutive sixth place, thanks to a fine drive by Sebastian, facilitated by a good strategy call to fit Inters so soon after the restart and a superb pit stop that enabled him to exit the pit lane ahead of [Nicholas] Latifi. Lance pushed hard on his second set of Inters - another good call by our strategy team - and ended up a solid 12th."
Williams Racing
Nicholas Latifi (9th): "The beginning was quite tricky with the red flag and the delays. We made the right decision to pit straight away for the Inters which was critical in jumping the cars ahead of us. I struggled at the end with the front tyres but I'm extremely happy to hold on and get my first points of the season. Overall, I'm really happy for the team and it's a nice morale boost."
Alexander Albon (DNF, Damage): "It's definitely a shame as I felt like today was a chance to maybe score some points. I actually had a very good start and was really pleased with it but then with the visibility being so poor, I couldn't see the car next to me; I couldn't even see the track. I had a light touch with Kevin [Magnussen] but where we hit it touched the radiator, we lost water pressure and it was leaking, so we had to stop the car. It was extremely dangerous out there and so bad in terms of visibility, in fact it's the worst I've ever experienced in my career so far. We are driving over 200kph in that weather and, whatever you are seeing on external or onboard cameras, it's a hundred times worse from the cockpit."
Dave Robson, Senior Race Engineer: "Today was hectic and enjoyable, and in the end provided a very good race. Track conditions were fine at the initial race start but the visibility made it incredibly difficult for all but the leader. Both Alex and Nicholas had excellent starts and made places initially but were unable to capitalise fully due to poor visibility at T1. Alex was unfortunate to suffer contact from the Haas, which damaged the radiator and forced him to retire. When the race finally restarted, Nicky did an excellent job in tricky conditions. He was part of the decision to make the early switch to intermediates and this paid handsomely as he soon got into a potential points scoring position. Although Russell was able to overtake, Nicky had the measure of the McLarens and managed his car really well to collect his first points of the season. It was great to be back in Suzuka to race at this superb circuit. As a team we had some ups and downs over the course of the weekend, but we fought hard today and gave both drivers a good package for the conditions. It's disappointing that Alex was prevented from capitalising but great for Nicky and his team to score some points."
Alfa Romeo F1 Team ORLEN
Valtteri Bottas (15th): "The conditions were very difficult today, in particular at the beginning of the race. The first couple of laps were quite risky, mostly because visibility wasn't great from my position, it was a bit sketchy. We seemed to have good pace, especially as the track dried out a bit, but unfortunately it was difficult to overtake today: I think most of the drivers struggled with that, which was a shame as I ended up stuck behind Magnussen for pretty much all of the race. We can still find some positives from this weekend: we were super close to getting into Q3 yesterday, so that's good. It's a small improvement, and we must aim for it for the final races of the season. Hopefully, we can build on that, and have a good qualifying in Austin in a few weeks, where we will also be bringing some additional upgrades on the car."
Guanyu Zhou (16th): "I have positives to take from the weekend, even though we didn't score. It was nice to see that we can still be so close and have good pace; furthermore, it being my first time in Suzuka, I learned a lot over the weekend. Overall, it was a typical Sunday with weather changes and very low visibility. At the start, I suffered a spin at the hairpin, meaning I had to come back from the bottom. At the restart, there were only two ways to go: you either pitted on lap one to go on inters, or you tried to stay out hoping for more rain. I was quite far behind and there was a lot of spray coming my way from the cars in front, so I felt like the best option was to stay out on the wets. We did that, and when we saw the inters were clearly faster, I knew the gamble was lost: still, we gave it a try, and I got to gain my first-ever fastest lap for that. We can be quietly confident for the future: the upgrades we introduced this weekend are looking positive, but we still need some more time to properly understand them."
Frédéric Vasseur, Team Principal: "Today was a difficult day in which the team performed under very tough conditions. In the end, there was no top ten finish for us, despite a quick car: overtaking turned out to be very difficult, even with a pace advantage, and we couldn't make the progress we wanted after a challenging start. It's a shame to leave Japan with no points: we now have to regroup and make sure we hit the right note in Austin, in two weeks. We know our car and our team are capable of battling towards the front of the midfield, but we need to get our work done to be there. One last thought has to go to the incredible Japanese fans: their presence has made the atmosphere of this race unique, despite the weather. They have been superb from Thursday to tonight and we're looking forward to seeing them again next year."
Haas F1 Team
Kevin Magnussen (14th): "There's not a whole lot to say – it was another day with the weather being like this, which is always an opportunity so of course it's disappointing not to get anything out of it."
Mick Schumacher (17th): "Our car is very strong, especially on inters, but unfortunately we put them on a bit too late. The fact that we were running P3 at some point, and even did our first leading meters in P1 is something positive. Points were up for grabs and we didn't manage to get them today, but definitely the speed was there."
Guenther Steiner, Team Principal: "We were caught on our backfoot today with the strategy. We were too reactive and not proactive, and we ended up down the classification. It's very difficult to make these decisions as we all know, and afterwards we're always smarter with hindsight. We'll review what we did and see that we do better next time."