Singapore GP 2022
OCTOBER 2, 2022
Sunday Team Quotes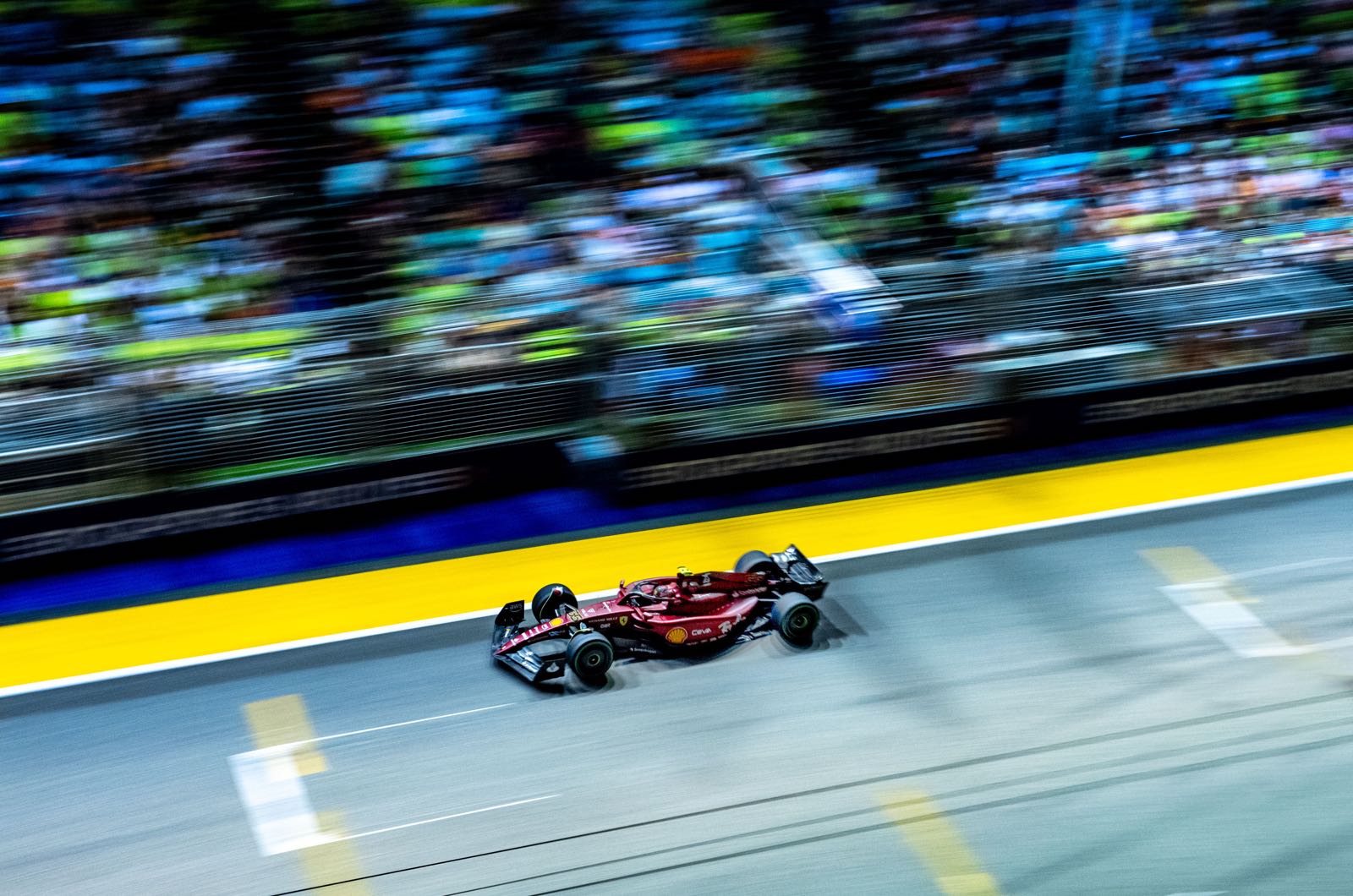 © Ferrari
Mercedes-AMG Petronas F1 Team
Lewis Hamilton (9th): "I think we started off with a pretty decent weekend and it was just really unfortunate at the end, no matter how hard I was trying it was just not possible to overtake. Today was about who gets on the slicks first and it would have been slice and dice with Carlos, which I was working towards. But that went out of the window when I had that lockup going into Turn 7. Your heart sinks a little bit, but you get back up again and try. My apologies to the Team, it's a shame we didn't manage to secure more points today. But we live, we learn and we will recover. We have lots to review from this weekend and I'm looking forward to Suzuka."
George Russell (14th): "We took a risk today going on slicks and it could have paid off with the Safety Car but then I had the incident with Mick. I don't know what happened, we need to review it. I'm disappointed we didn't score any points this weekend, but I'm pleased that the issues with the brakes we experienced in FP3 had been resolved and our confidence restored. We showed how fast our car can be and I'm still proud of the team because we are making good progress. I got a lot of confidence and optimism from today that we do have a competitive car. It was an enjoyable race although out of the points - I like the challenging conditions that Singapore brings, but obviously we want to finish much higher up. We have lots of work to do ahead of Suzuka but it was positive to experience the car's potential today."
Toto Wolff, Team Principal: "This season has given us several tough lessons - and today was another one. We started from opposite ends of the grid with our two cars, but we couldn't capitalise on the car's race pace with either of them, when it came to an end result. Lewis was fighting for the podium for much of the race - but also battling a car balance that was on a knife edge today, in difficult conditions and on the bumpy surface. After he locked up and damaged the wing, the stop to change tyres and the nose cost him position - then he lost out even more when cars ahead pitted under Safety Car and jumped ahead. That left him stuck in a train of cars on very similar aged tyres, and he couldn't make up any ground. For George, we rolled the dice on dry tyres when he was running out of the points - in hindsight, it was clearly too early, but he had nothing to lose, so we were prepared to take the gamble. Even so, as the race unfolded, he was still on course to make it back to the points until the collision with Mick, which put him last on the road. The biggest frustration today is that we couldn't build on the signs of competitive performance we saw in FP2 and in Qualifying. Our championship fight for P2 has got significantly more difficult with this result, but the only thing to do is to collect ourselves and throw our energy into the next race in Suzuka to rebuild momentum."
Andrew Shovlin: "Today was one of those races that seemed to go from bad to worse on more than one occasion. Lewis dropped a bit of ground to Sainz on the start and then got pushed wide and he lost all tyre temp going through the water. That meant the opening laps were tricky, but the bigger issue was we just couldn't get close and without DRS there was no way to pass so we were just losing ground to Sergio and Charles. The fronts were getting a hard time in the traffic which contributed to Lewis's lock-up and the timing of the front wing damage was unfortunate as we lost time with the change but then lost further positions as the Safety Car allowed others to pit without losing much time. George's race was equally frustrating, there were points, where it looked like he was going to be able to make good progress, but he was also finding it tough to get through traffic. The switch to medium was a gamble, he did a great job to keep it on the track but ultimately, we got it wrong and called it way too early. However, he did have good pace in the tricky conditions, and it looked like we would have at least got back into the points as he was pulling the cars ahead by many seconds a lap. Unfortunately, that hope was short lived when he had contact with Mick that caused a puncture. Overall, a race to forget, we're going to use the next few days to regroup and prepare for Suzuka where hopefully we will put in a better all-round performance."
Oracle Red Bull Racing
Sergio Perez (1st): "I am so happy to get this victory for me and my Team, it means a lot to me. I haven't been on the podium the last couple of races but I was always working under the radar and making big noises behind the scenes, so I am super proud of the performance today. Mentally it was tough and you had to stay alert for the whole race. It was super tricky in the conditions out there today and people underestimate how difficult it is to drive in those, going through the final sector was so hard. There was a bit of miscommunication with the safety car I think, he was going really fast in places where I couldn't keep up with him and then slowing where I could go fast. We were driving on slicks in the wet trying to keep the temperature and that is difficult. When they told me I was under investigation I just pushed like qualifying for 15 laps to get as big a gap as possible to Charles."
Max Verstappen (7th): "First of all, well done to Checo today, he put in a great performance. From my side it was a frustrating weekend. The race didn't start off well, I had an anti-stall so I lost a lot of positions at the start. From there onwards, I got myself back into a reasonable position after switching to slicks, but when I wanted to go for the move on Lando I braked and I hit a big bump and bottomed out and locked up. I boxed for new tyres as I had a massive flat spot so I had to start all over again from the back. It's tough to pass people on this track, especially when we've all got our tyres up to temperature, so I was stuck for a while. It was good to get a few points but that's not what we are here for, time to focus on to Japan."
Christian Horner, Sporting Director: "That was world class from Checo, it is right up there as one of his best drives. He was always fighting and even though he had a lot thrown his way he managed to stay on top. The safety car could have been a real stumbling block but how many times have we had to deal with a safety car lap and how many precedents are there? For us, this time, it really was a none issue. The stewards took their time with it, but they reached the right decision. It would have been a incredible shame to have taken that victory away from Checo. It was a massive result for him and we are super proud of him. Conversely it has been a tough weekend for Max, he had a lot against him today and while he was very patient, it did not go his way. He kept having to attack the field from some distance, then he spun, then had to pit, then attack from behind again. He was always fighting though, even down to those last few laps. It was a shame but that shouldn't detract from a spectacular drive from Checo."
Scuderia Ferrari
Charles Leclerc (2nd): "Our pace was really good today so it's a shame to finish second. We had some wheel spin at the start and didn't get away as well as Checo (Perez). That put us on the back foot. I pushed to put pressure on Checo but my front tyres got a bit too warm and he started pulling away. As I've already said, I want to use these last races to improve our execution of races and I think that we made a step in the right direction today."
Carlos Sainz (3rd): "It was quite a strange race for me to be honest. I had a good start and managed to get Lewis, but for some reason I struggled with pace in the first stint with the Intermediates and only towards the end of race did I manage to recover it. But by then it was already too late. We need to look into it because I've been quick all weekend and today I lost all feeling with the car. On a positive note, we managed to do a race without mistakes in these tricky conditions, which was not easy today, bringing home a solid result with both cars on the podium. We'll go at it again in Japan next week."
Mattia Binotto, Team Principal: "We are disappointed with the result of today's race. It's been quite a while that we have been chasing a win and today we came close. Having said that, we picked up a good number of points thanks to a second and a third place. Overall, it was a difficult weekend to manage, but the car worked well in both the wet and the dry. Here in Singapore, Ferrari showed that it had got over the difficulties of Spa and Zandvoort and we were able to get our performance back on track, which bodes well for the coming races."
McLaren F1 Team
Lando Norris (4th): "A very good day, with both cars in the top five. It was a tough race, especially with the conditions, but the whole team did a great job today. We scored a lot of points which was so important for the Constructors' Championship. Well done to the entire team. I'm very happy."
Daniel Ricciardo (5th): "I'm very happy. I haven't had a top five all year so I'm very pleased with that. I feel like some things fell in our favour today, but I also think we were very patient and mature. It was very tempting to jump on a slick and try to be a hero in the position we were in – but I think we were just sensible, bided our time and that obviously allowed an opportunity with other cars, and then a Safety Car. I'm really pleased the first lap was good, we made some positions there as well. So, we did everything right. We maximised a top five and it was a big one for the team in the Constructors' Championship, so everyone's got a smile on their faces."
Andreas Seidl, Team Principal: "Twenty-two points. Back in the game! Thanks to the entire team for delivering an excellent result this weekend, in hot, humid conditions here at the track in Singapore, back at the MTC and our colleagues at Mercedes HPP. Daniel and Lando both had superb drives today in tricky conditions. They did not put a wheel wrong on a day when many of their peers went off – but equally they benefitted from great teamwork and clear communication from their strategists, engineers and the pit crew, who once again delivered. We made the right calls today when it was very tricky to judge the best course of action. While we were in a good position from early in the race, in these conditions and particularly on this track, it is always tempting to jump early, switch to the slicks and try to grab even more. We had patience, two reliable cars, and solid pitstops, all of which were crucial factors in the result today. Special mention for Daniel. From P16 to P5 is a magnificent achievement. Both he and everyone on his side of the garage have worked so hard and shown so much commitment this year, it makes me very happy to see his best result of the season so far. Beyond the result, the upgrade that we ran on Lando's car worked as we expected, which is a big positive. We're looking forward to it being fitted on both cars in Japan. We won't get carried away with the result today. It's good to be back up to P4 in the Constructors' Championship but we're in a tough competition with a very strong Alpine team. We'll keep our heads down and keep working hard until the final lap in Abu Dhabi… but first up, Suzuka!"
Andrea Stella, Racing Director:
James Key:
Zak Brown:
BWT Alpine F1 Team
Esteban Ocon (DNF, Engine): "It's been a frustrating day for the team. On my side, a power unit issue ended our race early and I know the team is currently investigating the exact cause of the failure. It is, of course, very disappointing to leave Singapore with a double retirement but the positive we can take away is that our car has been performing well all weekend and we know we have good pace. We race again next week in Suzuka, my favourite track on the calendar, so right now we will dust ourselves down and come back stronger in Japan."
Fernando Alonso (DNF, Engine): "It's a pity to retire early from today's race and it means we've missed out on some decent points in the championship. I think we can look at the positives and we can be very proud of our performance this weekend again. We were fighting for the top five and six positions on Saturday and similar in today's race. It was a very tricky race in difficult conditions, and it was hard to see the dry line appearing on the track. We have another race coming next weekend, so at least we can shift focus immediately to Japan and getting back into the points there."
Otmar Szafnauer, Chief Operating Officer: "Unfortunately we had a double retirement from today's Singapore Grand Prix, which is a pity as we've been very competitive all weekend. It looks like we suffered a similar power unit issue on both cars, which we will investigate in detail. It's important that we identify the root cause of what happened and put preventative measures in place to avoid a repeat. In terms of the progress of our race, it was challenging with the drying conditions and we were about to enter a window where could have made the call for dry tyres before our retirements. These days do happen in racing from time to time and while it's a disappointing feeling within the team now, we have another race next weekend in Japan where we have the opportunity to recover. As a team, we'll take this one in our stride and we already look forward to returning to Suzuka and racing at a fantastic circuit."
Scuderia AlphaTauri
Pierre Gasly (10th): "I'm very disappointed today, that's not the result we should've had. We were having an excellent race, behind Lando and ahead of the two Aston Martins, but we took a massive risk boxing early and lost some positions. I don't fully understand why we made this decision, so we'll need to review everything and learn from this mistake. For sure we left a lot of points on the table today, so it hurts quite a bit, particularly in our Championship battle fight as there was a big opportunity there today to move forward and we didn't grab it."
Yuki Tsunoda (DNF, Accident): "The conditions were really tricky out there today, it was difficult judging the move from Inters to slicks but we went early, which meant it was super hard to drive, but we were starting to gain time, so things were looking positive. Unfortunately, I made a mistake, I completely misjudged the braking point, carrying too much speed into the corner, and went into the wall, so I'm frustrated with myself. I need to go away and reflect on this weekend and then prepare for my home race next week, where I'm looking forward to driving an F1 car around Suzuka for the first time."
Jody Egginton, Technical Director: "After all of the hard work put in by the team and drivers over the weekend, we have failed to maximise the opportunity to score good points with both cars tonight. This is due to our engineering team committing too early to the switch to dry tyres. This has cost track position for both drivers, with Yuki also unfortunately sliding off track soon after. This meant we have only got one car to the flag and come away with far less points than we should have. As a team we will now review the race in detail to understand the areas for improvement and take onboard the required learning to be better able to exploit such chances next time, as we have missed a very good opportunity tonight, which we needed to grab with both hands."
Aston Martin Aramco Cognizant F1 Team
Lance Stroll (6th): "It feels so good to pick up sixth place tonight, which is my best result of the season. It was also a good day for Seb, so we have come away with a big bunch of points. That is great for everybody in the team who is working so hard. It was a tricky race: the track surface was very slippery for the whole race, and it was not easy to stay out of trouble. It took a very long time to dry, just as it did yesterday. It was just a case of waiting for the areas with the new asphalt to dry out before the switch to slicks, which we timed really well. We have moved up in the teams' championship, which is important and a nice boost as we enter the final part of the season."
Sebastian Vettel (8th): "I think we can be happy with a strong result for the team and scoring important points. It was not easy with some very difficult track conditions. The asphalt took a long time to dry and timing the switch to dry tyres was critical. Maybe we went a lap too early, but overall I am happy with the result. I had a very strong start to the race and the first lap was great fun. I was not very patient and I pushed really hard, and gained a few places. After that, I concentrated on looking after my Intermediate tyres because we knew that the track would take a long time to dry and they needed to last. I had a big battle with Lewis [Hamilton] and Max [Verstappen] in the closing laps. I was defending for many laps and it was a shame that Max got ahead of us on the final lap."
Mike Krack, Chief Operating Officer: "Lance drove fast yet patiently to sixth place, scoring an excellent eight World Championship points for us; Sebastian, finishing eighth, added four more, pipped for seventh on the final lap by a hard-charging [Max] Verstappen. On a very slippery track surface, both our drivers handled an extremely tricky task superbly. As a result, we have climbed a couple of places in the Constructors' World Championship, which is a welcome reward for the steady progress we have been making recently. As ever, Formula One is a team effort, and in particular I want to pay tribute to our mechanics, who have worked long and hard in very humid conditions over the past few days, and executed our pit stops brilliantly this evening. I also want to thank the team back home at Silverstone, who also did a fantastic job. From here we go to Suzuka, a very different kind of circuit, and we hope to maintain our forward momentum there."
Williams Racing
Alexander Albon (DNF, Damage): "It's a bit frustrating and was difficult out there tonight. It's confusing with nothing different from the previous lap, however I just locked up on the front left with the wet making it difficult to predict the brakes. Whilst there wasn't an issue and ultimately it comes down to driver error, the brakes are very tricky in the wet and it's hard to get them in the right window. We knew coming into Singapore we likely wouldn't be fighting for points, so whilst it's difficult, we can look to Japan and come back fighting."
Nicholas Latifi (DNF, Suspension): "From the previous corner I had looked in the mirrors to see where Zhou Guanyu was. I didn't see he was there, so I took my normal approach for the racing line on the following corner. I don't know if he was in a blind spot of the car where the mirror can't pick up. Unfortunately, he was there and in hindsight I needed to leave more room, but I can only go off what I can see in the mirrors. The aim was to see the chequered flag and learn from the experience with it being my first race here, however the incident caused suspension damage which forced us to retire the car."
Dave Robson, Senior Race Engineer: "Conditions once the race started were like those we had yesterday, with intermediate tyres the correct choice for the race start but the track taking a long time to dry. Pace was dependent on whether the wear rate of the intermediates matched the rate of track drying. Even when the track dried, it remained very slippery and racing was particularly difficult. Alex's spin on the opening lap cost him some places but also damaged the car, which harmed the aero for the rest of the weekend. When he hit the wall again, the damage was too significant to continue and so we retired his car. Nicholas was fighting to hold off Zhou Guanyu early in the race, which ended in contact and suspension damage on Nicholas's car. It has been a tough couple of days, and we have some work to do to get the cars ready for the race next weekend. However, we are looking forward to going back Suzuka and taking on the challenge of one of the drivers' favourite tracks on the Formula One calendar."
Alfa Romeo F1 Team ORLEN
Valtteri Bottas (11th): "Considering where we started today, we probably got as much as we could. Of course, it's always frustrating when you finish just one position away from the points, but at least we avoided any mistakes and kept it on track. Towards the end, the soft tyres were starting to drop and I couldn't close in on Gasly, but I think it was a good call to try going with them in the second stint today: I don't think any other compound would have given us a better result. We can still take a few positives from the weekend: we showed good pace on Friday, and we have some upgrades coming to Japan; our car has proved to be working a bit better in dry conditions, so let's hope for favourable weather in Suzuka to kick back right away."
Guanyu Zhou (DNF, Accident): "It's disappointing to finish a race with such a crash, there was not much I could do. I was side-by-side with Latifi in turn four, and he decided to fully close the space and put me into the wall. The damage to the suspension was terminal, he got a penalty for this incident but it's not going to change much for me. It was not what we wanted, and it's especially annoying as I think we had a decent pace. We just move on from today and shift our focus to Suzuka: it's a new chance for us to do well and I am looking forward to racing on that track."
Frédéric Vasseur, Team Principal: "It has been a difficult weekend, despite the good pace we showed on Friday. Yesterday's wet qualifying ended up compromising our day, as it was always going to be challenging to come back from 14th and 15th on the grid. The race itself was not easy, especially on a damp track: Zhou couldn't do anything to avoid being taken out when he was showing good pace; Valtteri probably got as much out of the race as possible, and it was only a fast-charging Verstappen who kept him out of the points in the end. We tried giving him a fighting chance with the soft tyres, but in the end that was not enough to finish in the top ten. We move on to Suzuka now, knowing our pace in the dry was ok and that we will be introducing some updates that should give us a boost in performance. We keep fighting to preserve P6 in the championship."
Haas F1 Team
Kevin Magnussen (12th): "I had very slight damage but it was nothing. I got the black and orange flag which to me seems unnecessary as the part wasn't about to fall off, there were no safety concerns as it has tethers to the car – it wasn't even moving. We finished P12 when we had an extra pit stop that I didn't need, so it's frustrating. It was a positive Saturday yesterday, and we've seen the car has some pace, so that's at least encouraging. Hopefully we can keep it up moving forward."
Mick Schumacher (13th): "The contact with George (Russell) and consequently getting a puncture probably ruined our race. To finish P13 I think we can say in one way that we're happy that we finished, as not a lot of people did. Being the only rookie coming to the race to finish also is an achievement, so we can tick that box. We had the pace, we had the pace for points and unfortunately we just got unlucky. Nonetheless, we're going to Suzuka with a good feeling."
Guenther Steiner, Team Principal: "A disappointing race as we could've scored points here realistically, without dreaming of them. The incident on Lap 1 with Kevin, we lost all positions and again we received a black and orange flag, now for the third time, when there is no need for it. We have made it very clear to the FIA on the past two occasions and it's just like you have your back against the wall. Mick was very close to points, almost in it, and then he had contact with Russell and that put him out of the race for points. We showed what was possible, but we didn't bring any points home."