Tuscan GP 2020
SEPTEMBER 14, 2020
Race Analysis - Action packed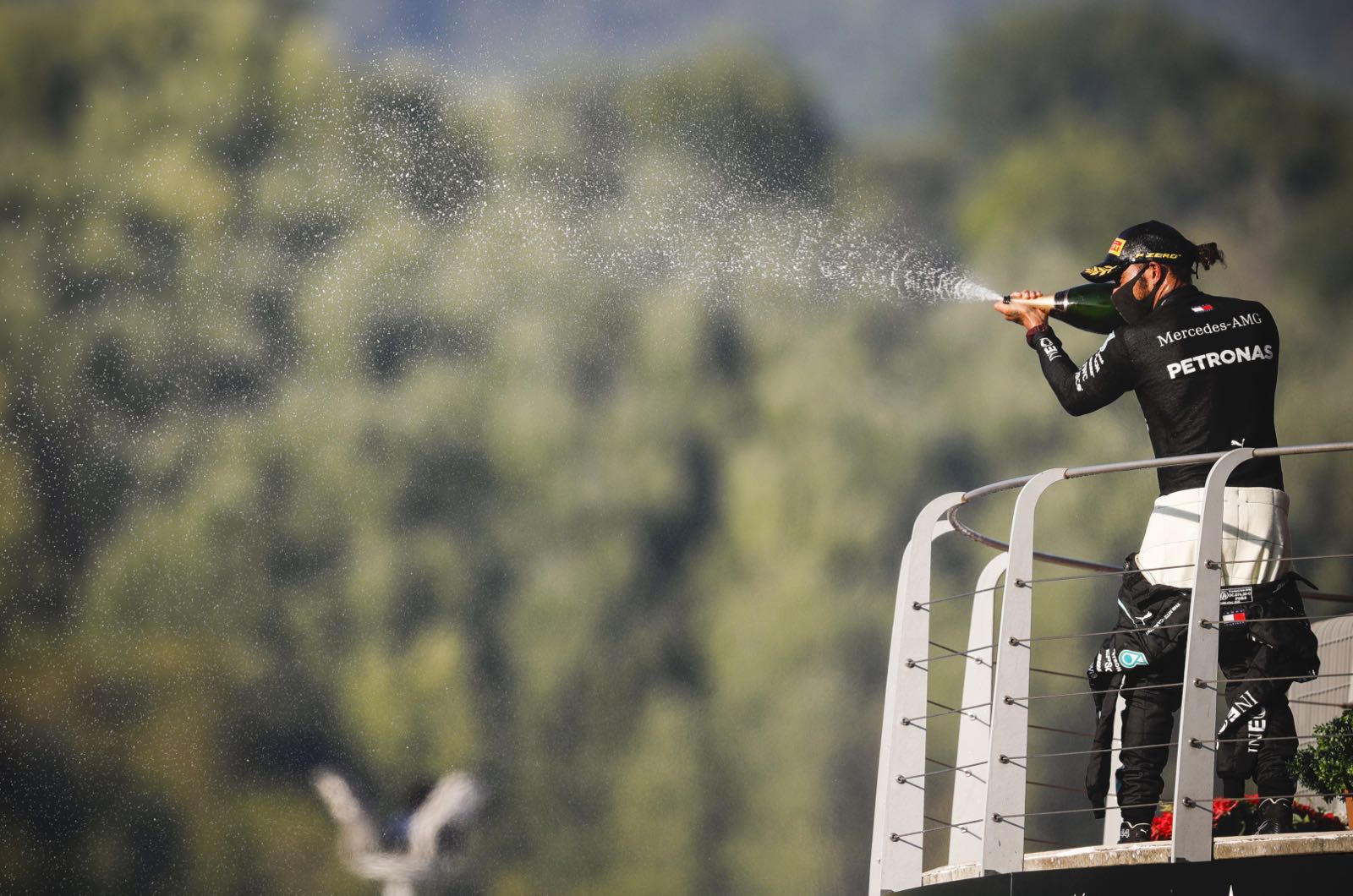 © Mercedes-Benz Grand Prix Ltd.
By Dan Knutson
The Tuscan Grand Prix was an action-packed affair with accidents and red flags and more. Oh, and Lewis Hamilton won again. Here how he did it.
AS USUAL
Hamilton started from the pole, as usual, and his Mercedes teammate Valtteri Bottas lined up second, as usual.
ALL RED
Row two was all Red Bull with Max Verstappen and Alex Albon.
BUT BOTTAS
But it was Bottas who grabbed the lead over Hamilton at the start of the 59-lap race around the Mugello circuit.
CRASH 1
The first accident of the race happened just three turns later.
LOST POWER
"I had a good launch at the start of the race and went around Lewis," Verstappen said, "but then the car just didn't accelerate so I lost a lot of speed and had no power. I then dropped back into the midfield and got hit from behind. When you drop into the middle of the pack in the first few corners like that it's quite easy to get involved in a crash."
THAT SOMEONE
That someone was Kimi Raikkonen in the Alfa Romeo.
"My race started pretty badly," he said. "I am not sure what exactly happened at turn two but I was hit and suffered a lot of damage. Probably whoever hit me didn't expect the pack to slow as much as we did, but in any case the crash took away part of my floor and my front wing."
ALSO INVOLVED
Also involved were Pierre Gasly (AlphaTauri), Romain Grosjean (Haas) and Carlos Sainz (McLaren).
"It was quite messy coming into Turn 1 with so many cars side by side," Gasly said. "I saw some space between Kimi and Romain in Turn 2, I ended up in the middle and had nowhere to go, so we collided and that was pretty much it. I don't think there is anyone to blame, but it's a shame."
TWO OUT
Gasly and Verstappen were out of the race, but the others got going.
SAFETY CAR 1
The accident brought out the first safety car.
START TWO
The safety car came in at the end of lap 6.
BACKED UP
Bottas, the leader, kept the pace slow. That backed up the field further back.
CRASH TWO
Crash two eliminated Sainz, Kevin Magnussen (Haas), Antonio Giovinazzi (Alfa Romeo) and Nicolas Latifi (Williams).\
REACTING
Latifi: "I almost hit Kevin (Magnussen) in the apex of the last corner when everyone braked again, and then again it seemed that everyone went, and you are just reacting to the cars around you. The cars ahead then braked once more and there was nothing that I could do to avoid it."
THEY ALL BRAKED
"What seemed to happen at the restart was that the leader was going slow all the way to the line, which he's entitled to do, but then somewhere in the middle – between me and the front, somebody decided to go," Magnussen said. I guess somebody maybe tried to open a gap to get some momentum, but they went too early and tried to stop again. The guy in front of me started to go, we were flat out for a few seconds, then suddenly they all braked. I braked, I saw people coming past, then I was hit by Giovinazzi – who had nowhere to go."
SAFETY CAR 2
That brought out the second safety car.
RED FLAG 1
The race had to be red flagged so the wrecked cars could be removed.
START 3
After a formation lap, the drivers lined up for a standing start.
IT'S LEWIS
This time around it was Hamilton who took the lead.
PITS
Bottas pitted at the end of lap 31 for a set of the hard compound Pirelli tires. Hamilton did the same a lap later and kept the lead.
CRASH 3
Lance Stroll had a massive crash on lap 43.
"First of all, I'm OK after what was a big impact," the Racing Point driver said. "We're still investigating the cause of the crash. It all happened so quickly, but it felt like a puncture. We need to go away and look at the data and fully confirm the reasons for it."
SAFETY CAR 3
That brought out the third safety car of the race.
RED FLAG 2
But the wrecked car needed to be removed and the barriers repaired. So the race was red flagged again.
START 4
Another formation lap, another standing restart.
OUT FRONT
Hamilton stayed out front. Daniel Ricciardo (Renault) briefly grabbed second from Bottas.
NO MORE
There were no more accidents, safety cars, red flags or restarts. So Hamilton went on to win.
CHALLENGING
"Today was one of the most challenging days, physically and mentally, I've experienced," Hamilton said. "I'm pretty exhausted to be honest, but it feels fantastic to win such a crazy race. It's all a bit of a daze and felt like three races in one day. It was incredibly tough out there, this track is phenomenal and Valtteri was pushing me hard, so it wasn't easy at all. With all the restarts and the focus that was required, it was really hard."
THREE IN ONE
"It feels like we had three races today and it was really tough out there," Bottas said after finishing second. "The first part of the race went well for me, but also was pretty short. I had a dream start and maintained my position on the first Safety Car restart. Once I lost the position to Lewis on the second start, it was really tricky to get it back. I did everything I could and was pushing really hard."
FIRST TO THIRD
Albon got by Ricciardo to finish third – his first F1 podium.
"It's something I've always wanted and one way or another we haven't been able to get it," he said, "so to be there today is pretty special. It's really nice to give the Team something back after they've supported me since day one and show them what I can do. It was a tough race and definitely not one of the easy ones. This track is brutal, especially the high speed corners in sector two, and with so many restarts to manage we had our work cut out."
90 TO 1
Hamilton now has 90 wins, just one fewer than the record 91 set by Michael Schumacher.